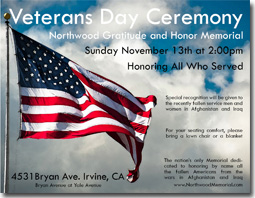 Honor our fallen heroes this year by witnessing the Veterans Day Ceremony at the Northwood Gratitude and Honor Memorial. The site, located about an hour south of Los Angeles, was dedicated on November 14, 2010, and is open to the public year round. It is the only memorial in the United States whose sole purpose is to recognize each and every one of our service men and women who have died in Afghanistan and Iraq. Their names are permanently engraved in granite so they can be remembered and revered by future generations.
The Veterans Day Remembrance Ceremony will be held on Sunday, November 13th at 2:00 p.m. at the memorial, located at 4531 Bryan Ave at Yale Ave in Irvine, CA. During the event, special recognition will be given to our recently fallen soldiers in Afghanistan and Iraq, and their newly engraved names will be unveiled. For your seating comfort, they request that you bring a lawn chair or blanket with you.
For more information on the ceremony or the memorial, visit www.NorthwoodMemorial.com.