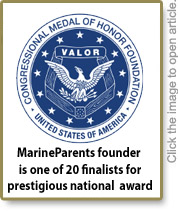 Tracy Della Vecchia, founder of MarineParents.com, Inc. has been selected as one of 20 finalists for the national Citizen Service Before Self Honors Award. This award has been called "the most prestigious civilian award in America" and is presented annually to three Americans who have shown exemplary courage, sacrifice and patriotism. Three winners are chosen from the 20 finalists and are presented with the award by Congressional Medal of Honor winners. The awards ceremony takes place near the Tomb of the Unknown Soldier in Washington, DC in March. Winners will be announced March 12, 2012 and the awards ceremony will be March 23, 2012.
Here is the link to the Citizen Service Before Self Honors website where Tracy is listed as one of the finalists - http://citizenservicebeforeselfhonors.org/2012-honors-nominations/finalists
The nomination letter follows:
In January 2003 Tracy Della Vecchia was a Marine Mom whose son had just been deployed to Iraq. Tracy, a website developer by trade, scoured the internet for some news of what was happening in Iraq and what she could expect as the mother of a Marine. She couldn't find anything. Tracy figured there were thousands of other family members who felt the same way she did. And so began her mission of finding a way to help mothers, fathers and all loved ones of Marines to gather information and "connect & share©" with one another. The website "MarineParents.com" was born.
Since that time MarineParents.com has grown incredibly and branched out to include other missions of supporting Marines and their families. There are now 17 MarineParents' informational websites. A multitude of Outreach Programs provide support such as:
Care Package Project™ - care packages are sent 4-5 times per year to deployed troops. Since the project began over 32,000 boxes have been sent at a cost exceeding $400,000.
Purple Heart Hero Support™ - provides support for families of wounded heroes including 16,230 meals served to family members who are waiting by their wounded heroes' bedsides at Naval medical centers on both the east and west coast.
Operation PAL™ - over 50,000 cards and letters have been sent by MarineParents members to wounded Marines.
Gold Star Family Support™ - provides support and a way for Gold Star family members to connect with each other after the devastating loss of their Marine.
Marine Family Network™ – an online platform for thousands of loved ones of Marines and recruits to "connect & share©" with each other.
The remarkable thing about MarineParents.com is that it was the brainchild of one amazing and very determined woman, Tracy Della Vecchia. Tracy had the perseverance, foresight and knowledge to get the initial website up and running. She has made huge sacrifices to keep things running; she works for MarineParents for a mere pittance of what she could make in her job as a website developer. She has put untold hours into growing the organization into what it is today. Simply put MarineParents.com is her baby – and she is going to be darn sure the baby comes first!
In the nine years since its inception, the organization has grown by leaps and bounds and helped thousands upon thousands of Marines and their families. This never would have happened without Tracy Della Vecchia.
Tracy has many wonderful qualities that have helped make MarineParents.com a successful organization. Chief among them is that she has amazing foresight, an uncanny ability to see the bigger picture and a willingness to put others' needs well ahead of her own. While others can get hung up on minor details or give up when things get tough, Tracy forges ahead and makes things happen. We are lucky to have her at the helm. It would be fitting for Tracy to receive the Citizens Before Service Honors Award; she embodies the ideals of this award.