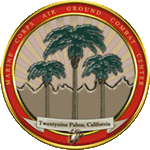 On April 21st Secretary of Defense Robert Gates announced the winners of the 2011 Commander in Chief's Annual Award for Installation Excellence.
Among the five recipients of this prestigious and competitive award were the Marines of Twentynine Palms stationed in California.
The award recognizes exemplary work in operating and maintaining U.S. military installations. All award recipients successfully provided excellent working, housing and recreational conditions for military men, women and their families.
An award ceremony will be held for the recipients on May 4th at the Pentagon in Washington, D.C.
More of Tony's journey to healing will be told in part two of his story in the April 27th newsletter.
Click here to read the official DoD news release.