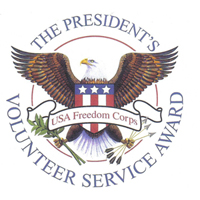 Marine Parents is fortunate to have the support of a portion of those 63 million volunteers. More than 150 volunteer their time for us daily, and another 150 work with us intermittently on outreach projects. Our volunteers are the lifeline of the organization, and we appreciate their dedication to executing our mission.
We sent out President's Volunteer Service Awards to 58 of our volunteers this week. These volunteers went above and beyond in the hours they committed to Marine Parents. The award packet they receive contains a letter from President Obama, a congratulatory letter from Marine Parents, a certificate and a pin that corresponds to the award level they reached.
The President's Volunteer Service Award program was established in order to thank and honor Americans who, through their service, inspire others to commit to civic participation.

Lifetime:
4000 Hours



Gold:
500+ Hours



Silver:
250-499 Hours



Bronze:
100-249 Hours

Listed below are the names of volunteers who received awards this year. The award listed next to each name is determined by the number of hours they served (See box to right for qualifications).
The Presidentís Volunteer Service Award - 2009

Lifetime Award Recipients:
Wendy Judson
Sandy Robinson
Kathi Harju
Joan Gutierrez

Gold Level Recipients:
Allen Abshire
Gayla Abshire
Bill Bramley
Lori Buchholz
Stephanie Fulton
Barbara Gemmell
Richard Koch
Cristie Lawson
Maria Lits
Barb Patterson
Sue Purschwitz
Pam Scarborough
Wanda Schmitt
Denise Sokol
Deb Sosnowski
Donna Swenson
Joyce Orrell
Curtis Orrell

Silver Level Recipients:
Sue Castor
Barri Fisher
Trish Fry
Sue Greene
Kathy Hatfield
Nancy Johnson
Dan LaForce
JoAnne McCrickard
Jennifer Misajet
Jackie Parker
Scheryl Powers-Wage
Lynda Register
Becky Ragan
Cheryl Sanchez

Bronze Level Recipients:
Valerie Beebe
Caitlin Bird
Betsy Branch
Maggie Christiansen
Joni Dafflitto
Linda Ditzler
Marylin Ferguson
Laureen Fairbanks
Allen Fischer
Laura Fly
Thelma Hoffman
Anne Hohenwarter
Anita Johnson
Jean Kiger
Sandra Longcor
Monica May
Dee McHugh
Gwen Pitts
Edina Roberts
Debbie Winkler
Linda Wolf
Stephanie Valle-Nigro
We thank these President's Volunteer Service Award winners and all of our volunteers for their hard work and dedication to troop support.