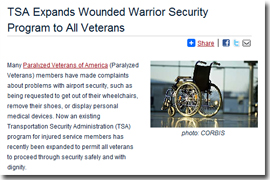 According to an article by Paralyzed Veterans of America (PVA), the Transportation Security Administration (TSA) program that formerly assisted injured service members through airport security has expanded to assist all military veterans.
The program was created in 2005 in conjuction with the Department of Defense to ease the airport screening process for injured service members. Since many paralyzed veterans have complained that the screening process is undignified and inconvenient, the program is now available to all veterans whether injured, paralyzed or otherwise.
To take advantage of the program, veterans must call or email the TSA Operations Center 24-72 hours before their flight. A TSA staff member will guide the service member through the security process and notify the federal security director at the airport "to ensure that any security screening required at those airports would be conducted by TSA screening experts with empathy and respect."
Click here to read the PVA article in full.