BuildASign.com is an online custom sign and banner store and they're giving away free welcome home banners for troops. They wanted to give something back and show support for our returning service members - this is a great way to do just that.
Build A Sign began their original banner giveaway in July of 2008 and for Veteran's Day last year they gave away an additional 20,000 banners.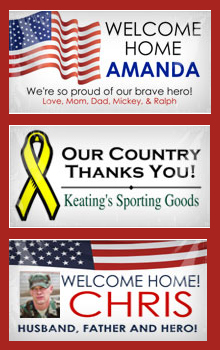 More recently, Build A Sign has shown their support by agreeing to produce and provide exhibit banners and materials for Marine Parents!
Visit their website. Thank them for supporting our troops. Thank them for supporting Marine Parents. And don't forget to create a welcome home banner for your returning Marine!