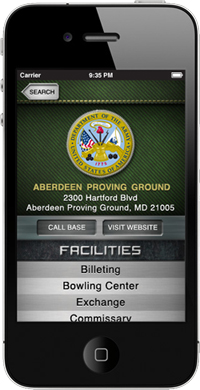 A new application for the iPhone called Bases was recently released, and it proves to be an excellent resource for military famillies.
According to its website, "Bases provides you with direct access to over 160 military bases in the United States. With Bases you can quickly call the base operator, visit the base website (if available) and find out which facilities the base offers."
The app features over 160 Air Force, Army, Marine Corps and Navy Military Bases in the United States.
You can find and download this application for $0.99 in your iPhone App Store.
Click here to visit the Bases website.
Click here to read a review of the app.