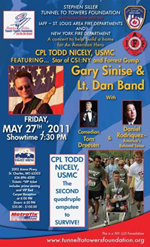 In March 2010 Marine Cpl. Todd Nicely was leading a group of men across a bridge in Afghanistan when he stepped on a bomb, bringing all 12 men to the ground. Days later he woke in a hospital in Germany to find that the bomb had taken all four of his limbs. Nicely is only the second surviving American quadriplegic and is now adjusting to prosthetic limbs.
On Friday, May 27, 2011, in St. Louis, Missouri, the Stephen Siller Tunnel to Towers Foundation, in conjunction with the St. Louis area fire departments and New York fire department, is holding a benefit concert to raise money to build Nicely a "smart" home.
Gary Sinise, star of CSI: NY and Forrest Gump, and Lt. Dan Band will be playing a show to raise the fund. Tickets prices range from $25 to $150. Doors will open at 6:30 p.m. and the show will begin at 7:30 p.m.
Click here to view the informational flyer.
Click here for ticket information.