Cards and letters written for combat deployed Marines pour into our office from across the country. The support for our men and women overseas is always touching and at the same time, some letters stand out among the others.
This particular letter was especially heartwarming. We sent the original to a Marine overseas and kept a copy to share with you - our Marine families, friends and supporters.
The author of this letter is a truly unique Marine supporter and his passion for Marines everywhere is sure to move you. Read the one-of-a-kind ďDear MarineĒ letter today. (See below or click the image to enlarge.)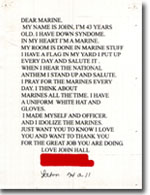 DEAR MARINE.
MY NAME IS JOHN, IíM 43 YEARS OLD. I HAVE DOWN SYNDROME. IN MY HEART IíM A MARINE. MY ROOM IS DONE IN MARINE STUFF I HAVE A FLAG IN MY YARD I PUT UP EVERY DAY AND SALUTE IT. WHEN I HEAR THE NATIONAL ANTHEM I STAND UP AND SALUTE. I PRAY FOR MARINES EVERY DAY. I THINK ABOUT MARINES ALL THE TIME. I HAVE A UNIFORM WHITE HAT AND GLOVES. I MADE MYSELF AND OFFICER. AND I IDOLIZE THE MARINES. JUST WANT YOU TO KNOW I LOVE YOU AND WANT TO THANK YOU FOR THE GREAT JOB YOU ARE DOING.
LOVE JOHN HALL