OK Lord...you don't hear from me much, although I'm sure you've got an eye on me daily, wondering "what is that girl up to now and when is she going to come on in for a talk"... I've read prayers from other parents and I wanted to try and offer a prayer too. I just want to ask you to watch over all our fine young men and women currently serving in the USMC, where ever they may be, overseas or stateside.
I ask that you place a firm hand on our Marines' shoulders during the day ... during the night and guide their steps always toward a path of well being and out of harms way.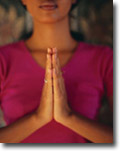 Whisper in their ear, giving word again to the courage and pride they sought at the beginning of their chosen journey as a Marine, courage and pride that was strengthened and challenged by the Marines who proceeded them in duty and battle. Whisper a second time in their ear and whisper a little louder "Semper Fi."
Grasp their hand at close of day, as they stand weary, in need of rest, and let them remember the mother..the father ... the wife ... the husband ... the child who has held their hand while home sharing the simple pleasure of family love and waits to hold their hand again. Let them realize that though the miles apart are actual, the distance of heart between themselves and family and friends has never been so close as it is while they are away from home.
.... and as they face situation, place and circumstance that might challenge the very core of their humanity, could you please place in the sole of their boots an arch built upon your wisdom and mercy ... I think if they have your arch they will not bend or stoop.
Give them a joke or two a day, a slap upon the back, a friend that makes them smile and a laugh that makes them cry.
Let our care packages, emails, IMs, twitters, letters ... our silent prayers from home reach them and may they never doubt our continued support and appreciation.
Dear Lord, my son will soon be deployed and I am frightened. I know that in all our Armed Forces, many have gone before my son and many will go after my son to battle grounds far from home and I know that each is your child, and by each, you have stood and will stand during their time of service. I thank you for this. There are others much more grounded in faith than I have ever been ... and well ... I'll ask this for me ... for others like me who keep wondering off the path ... I'm sure I'm not the only one standing off to the sidelines much of the time ... help us to inhale a deep and sustaining breath that we can take you in and feel your power and love.
Thank you for blessing our daughters and sons who risk their lives to hold safe our freedoms.
... and thanks for guiding me toward Recruit Parents and Marine Parents
Jeanne Watson ~ July 2009