Members of the Marine Corps League Auxiliary, Private George Phillips Unit volunteered with The Care Package Project™ on more than one occasion. We recently received a letter and donation from the Auxiliary expressing their support for the outreach program.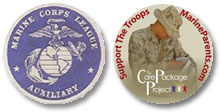 Programs like The Care Packet Project™ are only possible through the generosity and dedication of Marine families and friends. As a direct result of supporters like the members of the Pvt George Phillips Auxiliary, over 21,000 care packages have been sent to Marines in combat zones since the program began in December of 2004.
President Jamie S. Brooks writes, "[Our members] have seen you in action and are of the mind that the money will be better spent in your hands than if we tried to 'reinvent the wheel'."
Such praise speaks volumes of all involved with The Care Packet Project™. Thank YOU for your support and let's keep up the great work!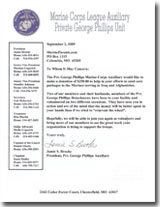 To read the letter from the President of the Pvt George Phillips Auxiliary, Click the image to the left or Click here…