From Cub Scouts to tenth graders, our Marines are receiving support from all ages.
We'd like to extend a special thank you to adults across the country who are encouraging awareness and troop support in children and young adults nearby. As Ronald Reagan cautioned:
"Freedom is never more than one generation away from extinction."
Thank you for educating our young people and for promoting support of our Marines.
Pictured below is an Introduction to Health Science tenth grade class presenting a check for $500. The South Carolina class raised the money to ship care packages to Marines through The Care Packet Project™.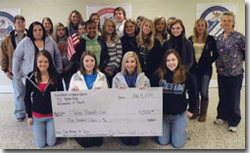 In Massachusetts, a very special group of Cub Scouts spent an evening learning about Marines and the sacrifices they make. The children then composed "Dear Marine" letters to express their gratitude.
The Den Leaders wrote us:
"We tried to explain to them how long these dedicated men and women spend away from their homes and families, about some of the extreme conditions under which they have to live overseas and about how many never make it home. It was a valuable learning experience for them."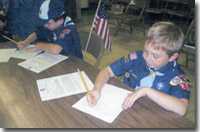 Are you influencing children in your area? Would you like to be featured in the Family and Friends Spotlight? Tell us your story.
Email us at: mp@marineparents.com
Be sure to put "Family and Friends Spotlight" in the subject line!