For more questions from First Graders and this Marine's responses, watch for September's
Attention on Deck: The Voice of Our Marines
column. We'll bring you
First Graders "Ask a Marine": Part II
!
Some correspondence was exchanged between a Marine in Afghanistan and his close friend's First Grade class. See what the children had to "Ask a Marine" below:
I have a question. Dear Corporal, how do you get your food? (Teacher - How do you think he gets it?) He builds his own restaurant. (What do you think he makes?) Like astronaut food.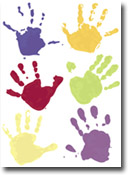 Marine responds - We have a chow hall; it is very much like your cafeteria. Every day we go wait in line and the "lunch lady" (or man) serves us our food. We get fed very well. Tonight for dinner they had Chicken Cordon Bleu or Salisbury Steak. They have all kinds of snacks and cookies for dessert. There is Soda, Water, Juice, Milk or Gatorade to drink. We also have plenty of fruits and vegetables, because they are good for you and you should all eat them every day! I did not personally help build the chow hall, but yes other Marines do help build it. And the food is not astronaut food; they ship fresh food to the chow hall so that we can have a nice hot meal. NOW there is something else we get to eat called a MRE, it is a Meal Ready to Eat. When I was working out on a security patrol, we did not get breaks to go eat at the chow hall. So we get these MREs which are more like astronaut food. It is a whole meal in a small brown plastic bag about the size of a lunchbox. MREs are packaged so that they can stay fresh for years. They have many choices of MREs: Pork Rib, Ravioli, and Chicken with Salsa…they are just OK, nothing great, but not bad either.
My name is Ryan. What year did South go away from North?
Ryan - 1860!!! But the South didn't leave the North, it left the Union!
Hello my name is Emily. I want to ask you a question. Dear Corporal, you are a good man. And I like you. Do you have only soldier clothes? From Emily.
Emily - I did only pack soldier clothes; I only have a small amount of space to pack all of my gear, so I could not fit any "civilian clothes." Being able to dress in favorite clothes is one thing that I miss very much about being back in America. P.S. I think you are a fantastic young lady!
My name is Sweetness, it's really Payton but there used to be a famous football player. Dear Corporal, How do you drink if you run out of gatorade? (How do you know they have gatorade?) I saw it in the picture.
SWEETNESS - I almost always drink bottles of water, because it is always in these big piles outside. It is the easiest drink to find…but it is normally hot water because it has been outside all day. We do not have ice! There are still all kinds of drinks at the chow hall: soda, milk, juice and all that stuff. We do have a store where you can buy energy drinks and that is very popular with the Marines…my favorite drink would be the Blue Can Monsters, DELICIOUS!
Dear Corporal. This is Sara. I want to ask you some questions. Do you like being in the Marines? And do you like being a Marine soldier?
Sarah - I do like the Marines, in fact, I love being a Marine. It is very hard at times, but it makes me feel like I am doing something important. Even if you are not out fighting with guns, the Marines need to be able to fly helicopters and airplanes, and I help them do that. I might not get to do all the cool stuff like fly them around, BUT I get to work on some really neat electronics stuff. Also, I get to do things as a Marine I never thought I would have a chance to do. As a Marine I get to shoot guns (not at people!), climb mountains, throw grenades (once again, NOT at people!)… but as "cool" as that may sound, the things I remember most are helping to build a Kids Park in Perdido, Florida, working with Toys for Tots in North Carolina and helping kids across the country get some nice toys for the holidays, or working at a food shelter in Virginia, helping to hand out and organize food for the needy. These are just some of the great things I get to do as a Marine.