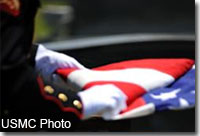 The following is a poem written by a Marine Lance Corporal with Marine Barracks Washington, also known as "8th & I."
Marine Barracks Washington is the oldest active post in the Marine Corps and the Marines there support both ceremonial and security missions in the nation's capital.
Click here to learn more about 8th & I…

What It Means
— LCpl. Brandon Scarborough, USMC
Regardless of the heat, the cold, or the humidity
We find ourselves exuding the exact same fluidity
At the Pentagon, White House, or cemetery
Where the bugles sound and the bearers carry
And bury our fallen with dignity and respect
And too often we don't take the time to reflect
On what it means to bury one of your own
And just how much you would give
To bring your brothers back home
So as we honor the Colonels and PFCs
While the children ask their mommies to bring daddy back please
There we stand, locked cocked and ready
Our minds are right and our heartbeats are steady
The flag is folded, the family prays
We stand there in silence and that's how it stays
The preacher begins, with the Lord in his breath
"As I walk through the valley of the shadow of death"
Then comes our turn to pay our respects
As the powder ignites and the casings eject
All twenty-one shots echo infinitely
Off the rolling hills and the white marble sea
Then slowly and gently the bugle cries
The family wipes the tears from their eyes
Many people question why we do what we do
At times we ask the same questions too
Is it the rank on the shoulder, the pride in the name?
The number of medals, fifteen minutes of fame?
The perfection of drill, the shine in my shoes?
A good looking cover, or the crease in my blues?
Though some may think this is why we stand tall
There are hundreds of reasons that overshadow them all
The love for the fallen, their family, their child
The commitment to honor those who are entitled
Our country, our cause, the reason we fight,
To keep others safe in the darkness of night.
Let it be yelled, whispered, heard, and seen
That today we will lift another Marine
To rest in peace with the Lord on high
And that is what it means to be 8th & I.
Copyright ©2010 Brandon Scarborough
To leave feedback for Brandon about the poem, visit this link on our message boards:
http://www.usmcparents.com/forum/topic.asp?TOPIC_ID=90737