"I know that as a Marine parent your heart is always with those deployed, whether it is your family or not, as we are all your family in the service of our country."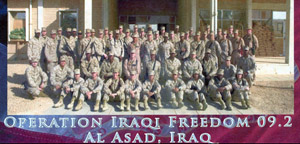 A Marine Colonel and Commanding Officer wrote us from Al Asad Airbase, Iraq and he's absolutely correct.
We are all so proud to be part of this family and to support our Marines and Sailors deployed in harm's way. In his letter, the Colonel expressed his gratitude for our support:
"I am fortunate to command some of the finest young men and women our great country has to offer, and it is comforting to know their sacrifices have not gone unnoticed. These Marines and Sailors are extremely proud to serve, and to know they are in the thoughts and prayers of the citizens back home means a great deal to them."
From this Colonel in Iraq and all of us at Marine Parents, thank you all for your support. Together as one family in service of our country, we can and DO make a difference.
See below to read the Colonel's letter in full.