A major in the U.S. Marine Corps, this Marine served a tour in Iraq and was later deployed to Marjah, Afghanistan. Near the end of his deployment, his father asked him to sum up his experiences in Afghanistan. Below is the majorís response.
(Originally published in the Guest Commentary section of The Denver Post.)
Although I've gotten used to things around here, this place can wear on you. Don't get me wrong, I truly believe in our mission and its importance to both the Afghan people and security back home. Still, southern Afghanistan is a hard place.
The question Marines ask themselves most when talking with folks back home is "Where do I start?" There are no easy answers.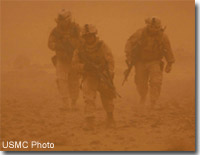 Sand, moon dust, terrain, weather, enemy, Marines getting hurt, Marines taken out of action, high op tempo, 24/7, working with locals, working with civilians, working with Afghan government, working with Afghan police, working with Afghan army, working with international forces (ISAF), bad food, drinking tea with locals knowing you'll get sick, getting sick, watching for IEDs, looking for ambushes, suicide bomb threats, enemy murdering and intimidating the local population, local "friends" working with enemy, Marines getting killed, controlled IED detonations, wondering what caused an explosion, the kids, seeing bad things happen to kids, bad kids throwing rocks, bad kids taunting and making gestures that you're going to get blown up, locals gaming the system, locals complaining about everything, locals always want more, some locals step up and the enemy takes some locals down . . .
Click here to read article in full on The Denver Post website.