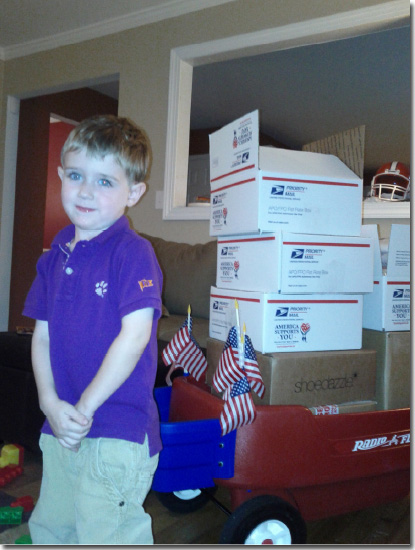 A little boy named Aedyn decided that for his 4th birthday party, he wanted guests to bring care package donations for Marines overseas instead of birthday presents. He thought that they needed things more than he did, so his mom requested in the birthday invitation that guests pick items from our Care Packet Project™ needed items list instead of bringing presents for Aedyn. Sometimes the youngest of hearts can have the most generous of souls. Aedyn's mom details his decision in the email below:
"Our son Aedyn's 4th birthday party was coming up and we were flipping through a magazine on birthday party ideas. I saw a section on give back parties...most of them were for local pet shelters or local community charities. He is a huge fan of the "soldiers" (as in Army, Navy, Marines, you name it). His Uncle Bruce is stationed in Korea and flies Apaches for the Army. One of Aedyn's teachers at his pre school also lost her fiance in Afghanistan almost 2 years ago, so their class was very patriotic and they learned a great deal about what soldiers do for our country.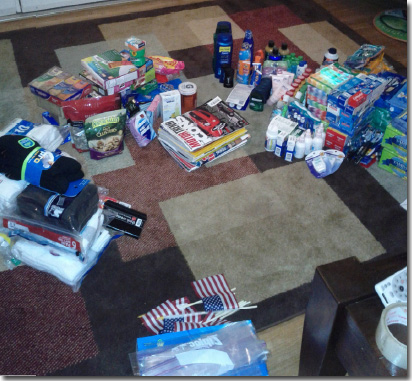 So, we asked him if he wanted to have a birthday party where his friends brought gifts for soldiers rather than for him. He thought about it for a minute and asked if he would still get a drum set (which is what he was asking mom and dad for) and we told him if he was a good boy he would get what he asked for. His reply about the "give back" party was "Yeah. I want to do that. Soldiers make us free and I have a thousand toys." After that he was really into collecting gifts and helping us plan his pirate themed birthday party. All of his friends brought gifts for him as well as donations for the soldiers, so he was thrilled about that. And, he did get the drum set he was asking us for...Lord help us Below are a few pictures of his party and the gifts collected.
A friend of mine has a brother who is in the Marines and was deployed to Afghanistan. I asked her if she had any information on where to send packages to Marines and she sent me to your website for details. We hope these gifts will help and we thank the "soldiers" so very much for all of their hard work in protecting our free country. We love you soldiers!!"