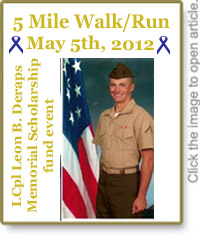 Join the Lcpl Leon B. Deraps Memorial Scholarship Fund for their 4th annual 5 mile walk, run and ride on Saturday, May 5, 2012!
All proceeds benefit the LCpl Leon B. Deraps Memorial Scholarship Fund
If you've ever been part of a MarineParents.com, Inc., pack day since the fall of 2006, then it's likely you know Sandy Deraps. She's the one who has been there since the "barn" pack days at MarineParents.com founder Tracy Della Vecchia's house. Sandy's the one who leads the group in prayer before the volunteers get down to packing.
And she's the one who lost her son, Marine LCpl Leon Deraps, who was killed May 6, 2006, while conducting combat operations in Al Anbar province, Iraq. A Jamestown, Missouri, native, Leon was 19.
The fourth-annual five-mile LCpl Leon B. Deraps Scholarship Walk will be held May 5 in Jamestown. The event, which is open to walkers, runners, bicyclists and motorcycle riders, benefits the Leon B. Deraps Memorial Scholarship Fund.
Last year, 476 people participated in the event, which allowed the fund to award six $1,000 scholarships to Jamestown High School graduates. In three years, more than 1,100 people have participated, and the fund has handed out 14 scholarships.
Participants are asked to pre-register by April 5, 2012, and all who register before April 20 will get a T-shirt; this year's version is black with white lettering. Registration is $10 for children and $25 for adults; registration the day of the event is $30.
To register, send participant's name, age and T-shirt size to:
Kim Barbour
21239 Highway 179
Jamestown, MO 65046
Registration is open from 8:00-8:45 a.m. with the event beginning promptly at 9:00 a.m.
Bike/Motorcycle participants should register at Advanced Chimney Techniques, Inc. at 365 West Row Street in Jamestown, Missouri.
Walk/Run participants are asked to register at Assumption Catholic Church in Cedron, Missouri and ride the shuttle bus to Advanced Chimney. The last bus leaves promptly at 8:45 a.m.
The event will begin at Advanced Chimney and will end at Assumption Catholic Church. Water stations will be located along the route, and shorter routes are available upon request. Concessions are available at Cedron grounds after the event.
If you would like to participate by volunteering, please contact:
Omie Johnson at (660) 849-2525 or omie@c-magic.com
or Kim Barbour at (573) 680-0055 or kim@millardfamilychapels.com
For questions or directions contact:
Dawn Cassil at (573) 823-4813 or cassiLdm@centurylink.net
If you can't make it to the walk, consider making a tax-deductible donation.
MarineParents.com staff members are participating in this year's event, and our goal is to raise at least $500 for the scholarship fund. To donate, please click here.
Log on to http://www.teammarineparents.com/ to send well-wishes and encouragement messages.