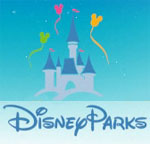 Disney is set to celebrate the good work of volunteers in the New Year.
The Give A Day. Get A Disney Day. program wants to inspire one million people to volunteer a day of service in 2010.
In return, volunteers will receive one-day admission to a theme park at DisneylandŽ Resort or Walt Disney WorldŽ Resort, FREE!
Marine Parents is a participating organization in the Give A Day. Get A Disney Day. program and we want our volunteers to be the first to sign up!
Volunteer registration for the program will open January 1. Register early and take full advantage of this opportunity.
Click here to learn more at the Disney website...
The fine print from Disney:
You must sign up through the Disney website to volunteer and complete your service at an eligible volunteer opportunity in the fifty US states, District of Columbia, Puerto Rico or Canada to receive a ticket. Ticket quantities for this program are limited. You must be at least 18 to sign up. Children must be at least 6 to participate in the program.
Program begins January 1, 2010 and continues until tickets are distributed or until December 15, 2010, whichever occurs first.
You may only sign up a maximum of 8 members of your household.