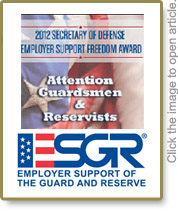 On behalf of Employer Support of the Guard and Reserve (ESGR), a Department of Defense agency that promotes a culture in which all American employers support and value their employees' military service, we are asking for your help spreading the word about an award. Each year, ESGR honors 15 employers across the Nation with the Secretary of Defense Employer Support Freedom Award, the highest honor given by the U.S. government to employers for providing exceptional support to their Guard and Reserve employees.
Now through Jan. 16, 2012, Guard and Reserve service members, or a family member acting on their behalf, are encouraged to nominate their supportive employers for this prestigious award at www.FreedomAward.mil. We ask that as a valuable member of a military support organization, you please help us reach as many service members and their families as possible to inform them of this important opportunity.
Any Guard or Reserve employer supportive of its military employees or their families may be nominated for the Freedom Award. Past recipients of the award have ranged from a small family owned farm in Iowa to larger corporations, including Microsoft and Wells Fargo, to public sector employers including the Town of Gilbert, Arizona and the State of Hawaii.
The 2012 recipients will be announced by early summer and honored at the 17th annual Secretary of Defense Employer Support Freedom Award ceremony in Washington, D.C. early next fall. Past recipients of the Freedom Award have met with the President of the United States and the Secretary of Defense.
Click here to learn more.
Click here to submit a nomination.