How YOU can help change a law for our Gold Star Mothers and Fathers
There is no loss greater than the loss of a child. Words cannot express the depth of sorrow you feel. Some companies allow 3 days bereavement, some companies are more generous in this situation, but most, unfortunately, are not. Expecting parents to come back to work within a week and "be normal" not only shows a lack of compassion, but a lack of empathy.
–Brenda S. from Alexandria, Virginia
As a bereaved parent I cannot believe this isn't already in place. Losing a child, toddler, teen or adult makes no difference to the trauma the parents go through. There is no loss like it. We are kinder to animals than to our fellow man.
–Michele H. from Alden, New York
These are a few of the many comments that have been made by parents who have suffered the tragic loss of a child and then not been given adequate time off of work to mourn their loss.
Watch this video on C-SPAN of Barry Kluger, one of the men who started this petition, and continue reading below to learn more.
MarineParents.com, Inc. and its Gold Star Family Support Groupô are heartened by the recent proposal to clarify rules related to the Family Medical Leave Act (FMLA) as they affect military members and their families. However, while acknowledging the important role of caregiver for a wounded service member, the proposed rules do not go far enough. In our view, the parents of service members who have died should also be covered by these new regulations. These families experience an unimaginable grief that has a direct impact on not only physical and mental health, but how it manifests itself in the workplace.
Currently the Family and Medical Leave Act (FMLA) permits workers, in companies with 50 or more employees, to take up to 12 weeks of unpaid leave to help care for a sick immediate family member. The FMLA does not cover the death of a child. As a result, some bereaved moms and dads have had to make the difficult decision of whether to spend time away from their companies and risk losing their jobs or return to work long before they are ready.
How does this affect you Ė the loved one of someone in the Marine Corps? It affects you because this oversight in the FMLA is hurting our Gold Star families. We are asking you to join with us in supporting a proposed amendment to FMLA that would allow unpaid leave time of up to 12 weeks for families who have lost a child.
Two grieving fathers, Barry Kluger and Kelly Farley, have started a petition to get the law changed. They also hope to get the current FMLA wording, that defines a child as being 18 years or younger, changed so that it would also cover parents whose sons or daughters were killed in action. Gold Star mothers and fathers would be able to grieve without fear of losing their jobs.
We urge the Department of Labor to broaden the scope of its proposal and to mirror the language in The Farley-Kluger Amendment to the FMLA of 1993, (www.farleykluger.com).
Last year, The Senate Bereavement Act of 2011, inspired by The Farley-Kluger Amendment and introduced by Sen. Jon Tester of Montana, proposed the FMLA extend leave options. We believe there is no better time than now to include any and all loss of a child.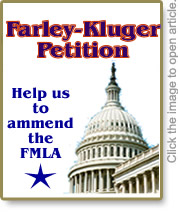 You can help! Itís simple and will only take a few minutes of your time. Go to www.farleykluger.com to sign the petition. It would help if you make a comment about this amendment being particularly necessary to help Gold Star families, whose sons or daughters have made the ultimate sacrifice. After you sign the petition, you will have the option to send an email to your representatives in Congress to support this change to FMLA.
Perhaps these words from Kathleen, a Gold Star mother from Mashpee, Massachusetts, say it best:
My sonís re-deployment to Heaven on Sept. 24th 2010 was and still is the hardest thing I have ever gone through in my life. The pain never goes away but through time we as parents figure out what our new normal is going to be. Life as we knew it will forever be changed. I support this bill 100 percent ...
Please join with all of us at MarineParents.com to get the word out and make things better for our grieving Gold Star families by signing the Farley-Kluger petition. Also visit our Farley Kluger Amendment Facebook page.