FOR PARKING PASS TO THIS EVENT CLICK HERE!
Ladies and Gentlemen,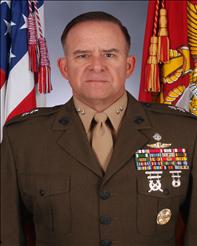 Major General Douglas Stone

Meet with Marine Parents:
At Marine Parents, we'd like to get a count on those interested in attending and perhaps planning a meet-and-greet with parents afterward at a restaurant for dinner. To let us know your interest, please contact Barbara Gemmell at 573-303-5500 extension 109 or via email at barbara@marineparents.com. We look forward to meeting you and sharing time with the General.
Headquarters and Service Battalion has finalized plans for Major General and Mrs. Douglas Stone's visit on January 30, 2009. Major General and Mrs. Stone will be holding a Town Hall meeting at Southern Polytechnic State University from 4 to 6 p.m. The event will take place in their theater, located in the Student Center (
directions in attached invitation
).
Major General Stone played a key role in Operation Iraqi Freedom while serving as Deputy Commanding General, Multi-National Force--Iraq (Detainee Operations) and Commanding General, Task Force 134, Baghdad, Iraq. He was recently selected for Lieutenant General and is expected to serve as Commanding General, Marine Forces Reserve for his next billet. As such, he will certainly have an impact on local Marines as well as Marines and communities throughout the United States.
Major General Stone is widely known for his innovative leadership perspective and ability to effectively communicate with his audience. Major General and Mrs. Stone are especially interested in meeting with Marines and their families, veterans, and friends in the community on this occasion. This is an opportunity to hear Major General and Mrs. Stone speak as well as to ask questions about their past experiences and future plans. It is a FREE chance to meet with one of the top Marine Corps leaders!
Headquarters and Service Battalion has received positive responses from approximately 250 guests thus far, and we hope that more will take advantage of the opportunity to meet with Major General and Mrs. Stone in this unique setting.
Attached please find an invitation (click here to download) that includes details and directions to Southern Polytech. Please note that we will send another e-mail with parking passes for Southern Polytech within the next few days. Please print as many as you need and park in lots designated on passes.
***For more information on Major General Stone, please see his official bio and articles from Reader's Digest and Financial Times by clicking on the links below:
https://slsp.manpower.usmc.mil/gosa/biographies/rptBiography.asp?PERSON_ID=123&PERSON_TYPE=General
http://www.ft.com/cms/s/0/71c42ec0-40ca-11dd-bd48-0000779fd2ac.html?nclick_check=1
We look forward to seeing you on January 30th at Southern Polytech!