"This is one small gesture...a little light in honor of the families we hold so dear and what they have sacrificed for us."
~ Tracy Della Vecchia, founder of MarineParents.com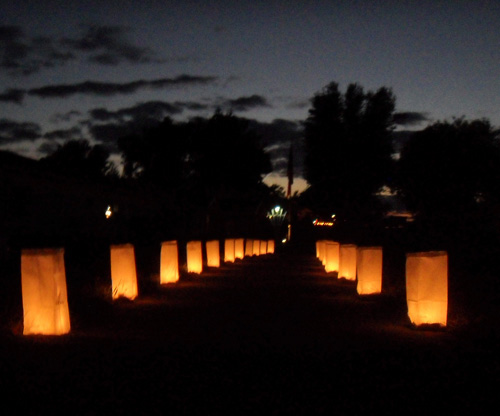 Sunday, September 25, 2011, marked the third year Marine Parents encouraged individuals and communities across the country to participate in the luminary initiative on the last Sunday of September in honor of Gold Star mothers. It was a bigger success this year than in previous years, and we thank all who participated by lighting luminaries outside of your homes and holding local ceremonies.
We held a ceremony at a park near our headquarters in Columbia, Missouri, and it was a very beautiful and serene evening. We were honored to have two Gold Star families in attendance, and we thank them for coming out and sharing the evening with us. Also in attendance were the Patriot Guard Riders who arranged several American flags around the area, a bagpipe player who played "Taps" and provided background music for the evening, and a chaplain who recited a poem and a prayer at the ceremony.
Click here to view photos from the ceremony.
A local newspaper covered the event, and the article provides an excellent recap of the evening.
"Della Vecchia presented the two Gold Star Mothers in attendance with clear glass suncatchers — bordered by red, with a gold star in the center — to hang in their windows."
Click here to read the article in full.
Nineteen states were represented by those who committed to light luminaries outside of their homes. A few individuals sent us their photos and comments from the evening:
Jenna from St. Joseph, Missouri:
"We made 23 luminaries. 21 of which we put a name on to represent that particular Marine. The other two were left blank in representation of all of the others who gave their life for our country. We are live in St. Joseph, Mo. Next year I hope to get my entire neighborhood involved."
Kelly from Brooklyn Park, Minnesota: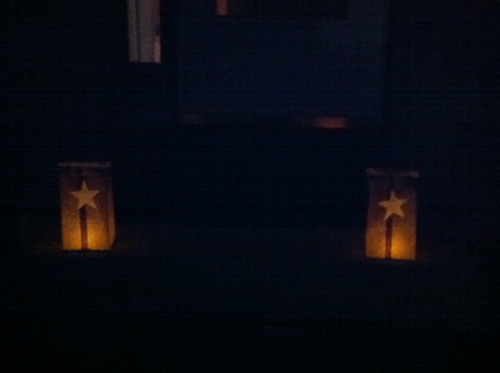 Adriana from Santa Clarita, California:
"My daughter and I made 7 luminaries with no names representing all of the Marinesthat have given their lives protecting our country and we placed them in our yard. I think all it matters is that God knows our hearts and minds."
Barb Patterson (our Director of Outreach) from Richland, Michigan
"The event on our cul-de-sac went VERY well. It was a beautiful, crisp fall evening and everyone came outside at dusk to light their luminaries. We lined the cul-de-sac with the luminaries instead of putting them on the driveways and it looked really nice. We all gathered and talked about what a huge sacrifice all of these families had made. Everyone was incredulous that this day originated in 1936 under President Roosevelt, and yet they never knew about it until we started this luminary initiative. One little neighbor boy who is a Boy Scout and in 5th grade said that he wanted to do a service project next year and get our entire village to have luminaries on Gold Star Mothers Day; I thought that was really sweet."
The neighborhood event was featured in the Kalamazoo Gazette. Click here to read the article.
Click here to view more photos posted by members on Marine Family Network.
Participation in Gold Star Mother's Day has increased every year since we began the luminary initiative...let's continue to encourage others to participate so that each year more Americans can honor our Gold Star families!