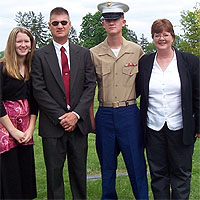 The Marine Corps is looking for "A Few Good Parents" to tell the story of those young men and women who have made the decision to serve our Nation by becoming United States Marines, and the parents and mentors who have guided and supported them along the way.
The Marine Corps, in partnership with JWT, their advertising agency for over 60 years, is redesigning Parents.marines.com, which will entail a new focus on both parents and other mentors of Marines, as well as some exciting new content and video capabilities.
Your sons and daughters have faithfully and selflessly served at the highest level. You, as parents, have served with them. In order to make these videos engaging, we're looking for parents of current and former Marines to share their story. Specifically, we want parents to explain how they felt when their son or daughter decided to become a Marine, the process of acceptance and how those feelings evolved following graduation and their immersion in the Corps. We also want to know how their experiences in the Marine Corps have positively impacted your son or daughter, continuing to instill the values that you, as a parent, have promoted throughout their life.
If you would be comfortable speaking on camera, are available during the months of February and March 2010, and are a proud parent of a Marine, please send the following information to melanie.lerner@jwt.com:
Name
City, State
Ethnicity
Phone number and e-mail address
Brief description of your Marine Corps story
Thank you in advance and we look forward to hearing from you.