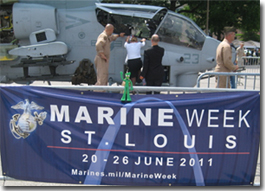 June 21 UPDATE:
Marine Parents is at Marine Week! We attended the opening ceremony yesterday and took lots of photos of Semper Gumby enjoying the sights and hanging out with the Marines. On Friday and Saturday, we will be setting up a tent near the Gateway Arch where we will hand out free bottled water and Marine Parents koozies and visit with Marine families and friends. Come out and see us!
Stay tuned for more Marine Week updates.
Click here for a video clip of the opening ceremony.
Click here to see photos of Semper Gumby in action.
May 24 UPDATE: The official Marine Week event schedule is now posted HERE! Check back as we coordinate and finalize our dinner and lunch gatherings to coincide with Marine Week events. Get ready for Marine Week 2011! Marine Week will be held in St. Louis this year from June 20 to June 26.
According to the official page for Marine Week 2011, "The week-long celebration will showcase the unique characteristics of America's Corps through more than two dozen events where attendees can watch combat demonstrations; climb aboard aircraft and ground equipment, to include helicopters, the V-22 Osprey and amphibious vehicles; and participate in community service projects alongside Marines."
Attendees will be able to experience the Silent Drill Platoon, Marine Corps Martial Arts Program, Marine Corps Band, All-Marine sports teams and military working dog teams.
Marine Week is free and open to the public. The Marine Corps has not yet posted an event schedule for the week, but we will update our page as soon as we have details. We do know that there will be three primary display venues in the downtown area including the Gateway Arch, Ballpark Village at Busch Stadium and Soldier's Memorial.
To learn more about Marine Week 2011, visit www.Marines.mil/MarineWeek.