CLEVELAND, Ohio – Want a surefire way to make Marines smile? Ask them to pose with Semper Gumby.
Strolling around downtown Cleveland, Ohio, during the evening of June 14, 2012, during Marine Week, MarineParents.com staff members ambushed passing Marines. The request, Let us take your picture with always flexible Semper Gumby. The Marines couldn't resist. Men and women, enlisted and officers, all couldn't help but smile when they saw our unofficial mascot. (Click here to purchase your own Semper Gumby at the EGA Shop.)
And thus began MarineParents.com's weekend at Marine Week.
The next morning – which came after an 11-hour drive and long night the previous day – we got a late start. Four of us made the trip: MarineParents.com founder and CEO Tracy Della Vecchia; outreach coordinator Babs Blackmon; graphic artist and photographer Joe Mitchell; and writer and photographer Joe McCune.
We set up our informational tent near the Rock and Roll Hall of Fame and dove headfirst into the fourth annual Marine Week. According to the Marine Corps website Marines.mil, about 750 Marines were present in Cleveland during the week's festivities of "community, country and Corps."
At least 750, because they were everywhere, downtown and all over town, in desert camouflage, in dress blues, in dress blue trousers with tan blouses. And then there were the Silent Drill Platoon members in dress blue coats with white trousers – in a word, sharp.
North of the rock hall, Voinovich Park juts out into Lake Erie. At the park's entrance, an M1A Abrams tank was positively crawling with kids (and more than a few adults, too), its cannon pointed toward downtown Cleveland.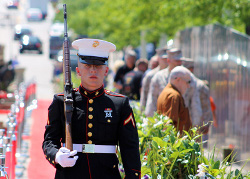 A few yards away stood a replica of the Vietnam Veterans Memorial. Volunteer Honor Guard Marines clad in dress blue jackets with blood-stripe blue trousers took one-hour turns marching slowly along a flower-lined red carpet about six feet in front of the wall. From one end to the other, weapon on their right shoulder, slowly they marched. When their one-hour shift ended, they retreated to the sparing shade of a nearby tree, sweating in the heat.
"It's an honor," said Sgt. Thomas Phillips Jr., 4th AAV Battalion of Tampa, Florida, who was deployed from November 2009 to April 2010 in Afghanistan.
Marines under his command for the Honor Guard agreed: Cpl. Matthew Miller, Cpl. Blaine Doran and Pfc. Dan Trala, all stationed with 3/25 in Buffalo, New York, volunteered for the duty. Miller and Doran were deployed from August 2010 to March 2011 in Afghanistan, they said.
Community, country, Corps. They aren't just words to these Marines.
Northwest of the wall, American flags flapped in the ever-present breeze coming off the lake. More than 400 flags stood in crisp rows, planted there by the Ohio Flags of Honor non-profit organization, a tribute to the Ohio military members who have died during the War on Terror.
Along a separate row, a gold star flag led a column that included service branch flags. The lone gold star was a poignant reminder that freedom most definitely isn't free, it's paid for with the blood and lives of our countrymen, our fallen heroes.
Welcome, friends
Back at the MarineParents.com informational tent, Tracy and Babs kept busy handing out brochures, Red Friday bracelets and coupons to our EGA Shop to the steady stream of folks who dropped by. (It didn't hurt our traffic to be right next the Marines.com recruiters who had a pullup bar challenge going on. Twenty pullups for men or a 70-second flexed-arm hang for women earned a T-shirt, and about one out of every 15 or so – male and female – walked away with one. And, yes, we got a picture of the recruiters holding Semper Gumby. They even smiled.)
Being at Marine Week allowed us to reach new audiences – especially poolee parents and those parents with a child thinking about becoming a recruit. Our Recruit Parents brochure provides an overview of the services we offer, and we handed out a boatload of them.
Two "Young Marines" stopped by our tent, too, wearing eight-point covers and their camo sleeves cuffed above the elbow. When we pointed out that the new uniform regulations from Commandant Gen. James F. Amos require that blouse sleeves be worn fully extended, one Young Marine responded, "We can wear them like this because we're not Marines yet." Well, OK, we couldn't really argue with that logic.
We also met many Marines whose careers in the active-duty Corps had ended, veterans of Vietnam, veterans of Korea, veterans of Desert Storm and the War on Terror.
And we met one Marine who was a Pearl Harbor survivor. On his right arm, near the shoulder, was a bulldog tattoo and "USMC" in the old-style green color. More than 70 years ago, he faced the horror of that day in Hawaii, "a day which shall live in infamy." Standing in his presence was humbling. We thanked him for his service and wished we had hours to sit around on a front porch somewhere talking to him. Semper Fi, Marine. Semper Fi.
Equipped for battle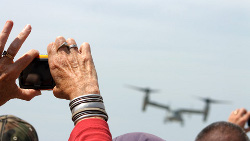 The MV-22 Osprey is a wonder to behold, a propeller-driven craft that is a combination helicopter and airplane. Sitting in Voinovich Park, a steady stream of interested visitors waited in line to climb inside and see it from the troops' perspective. Able to carry 24 fully equipped Marines, the Osprey can take off like a helicopter and then switch to airplane mode while in flight, making it one of the most useful of all USMC aircraft. Seeing it fly over the lake and land at Burke Lakefront Airport, it gives you a sense of just how quickly troops can put boots on the ground wherever and whenever they're needed.
The aircraft that got everyone's attention when they flew past Voinovich Park were, of course, the FA-18 Hornets. We could hear them coming before they reached the park, a growling whistle that Dopplered out in front of the jets; with a top speed of Mach 1.8 (nearly twice the speed of sound), the ride probably felt like a leisurely stroll to the pilots, but it was plenty fast watching from the ground.
Add Cobras and Hueys and Super Stallions and the KC-130 transport plane, and you have about the whole of the mock invasion's air wing. About, that is, because there's still one aircraft left: the AV-8A Harrier. Able to take off vertically like a helicopter and with a top speed of 662 mph, the Harrier is to ground support what the Osprey is to troop transport.
Of course, tanks and aircraft weren't the only weapons on display. There were tents near the rock hall with rifles and sidearms, and Marines in the Public Square had weapons at your disposal. You want to hold a grenade launcher? Here, take it; heavy, isn't it? Like that sniper rifle? Look down the scope. Except for the jets, the tens of thousands of Marine Week visitors could get a hands-on feel for the equipment that help make our Marines the finest fighting force on the planet.
The invasion
The Marines didn't just invade Cleveland during Marine Week, they "invaded" Cleveland on Saturday, showing 20,000 – 30,000? 40,000? – spectators what a real invasion would look like.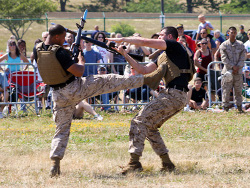 After the martial arts, working dogs, Marine Corps Band and Silent Drill Platoon displays and a one-hour wait in the concession stand line to get water, the invasion started with four Recon Marines parachuting into Burke Lakefront Airport. Tiny specks in the sky when they jumped, they landed one after the other in a swale between runways.
Shortly thereafter, a land/amphibious vehicle began disgorging Marines farther afield, green smoke disguising their actions. When they got closer, one Marine would run forward, then stop and take his position. As soon as he was set, the one behind him would move in front of the first one. Back and forth they came, dozens of Marines moving forward, just like you've seen in the movies. Precision forged in training, put to use on the battlefield.
Although it wasn't Iraq or Afghanistan hot, it had to be plenty toasty in their full desert camo uniforms toting 60 pounds (or more) of gear. It most definitely pays to be in shape as a Marine.
With the ground invasion, the Cobra helicopters and jets ran cover from the air, making runs in front of the spectators, banking in the distance and coming back for another pass.
When it was over, a Huey came in and sent out a long rope, probably 70 feet or more. The four recon Marines attached themselves to it one in front of the other, and the Huey took off.
The jets landed and taxied down the runway, the pilots waving to the crowd as they passed by. The helicopters flew by slowly, the pilots and door gunners waving to the crowd, too.
Then the Harrier came in, and as it was doing so, the announcer urged the folks who brought ear plugs to put them in because that thing was LOUD. It hovered above the runway, about 30 feet off the ground. It moved from side to side. It spun a slow circle. It did this for about five minutes. Did we mention it was loud? From a hovering start, it took off.
The PA announcer exhorted the crowd to cheer.
"Let's give them a big Ohh Rah!" he said.
"OOOHHH RAAAAAHH!" the crowd roared back. "OOOOOHHH RAAAAHHH!"
Ooh Rah, indeed. We had so much fun during our weekend in Cleveland that we're going for the full week next year, wherever it is.
And we're bringing Semper Gumby with us.
Enjoy some more of the pictures we took at Marine Week 2012!
Find more photos like this on Marine Family Network