Updated May 1, 2013
Due to federal government budget cuts, Marine Week 2013, scheduled to run this summer from August 5-11 in Seattle, Washington, has been cancelled. This year was to be the 5th annual edition of the event, which is one of the Marine Corps' most popular and high-profile community outreach events. The announcement came on April 25, just one day after the Navy announced the cancellation of the popular "Fleet Week" in New York City and is part of the automatic budget cuts that are set to slice $500 million from the Defense Department's budget over the next 10 years.
***********************************************************************************
Military Equipment, Demonstrations on Display in Seattle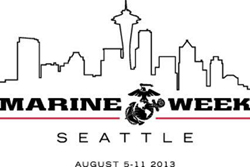 Marine Week is just a few months away, with the fifth annual installment taking place this year August 5-11, 2013 in Seattle, Washington. Marine Week is a "celebration of Community, Country and Corps" and provides the public with the unique opportunity to experience and interact with the Corps in an up close and personal manner.
During Marine Week, the public will be able to view the latest in military technology and weaponry, view hand-to-hand combat demonstrations, participate in clinics with Marine Corps athletic teams, and watch the Marine Corps Band and Silent Drill Platoon, among other activities. The week will culminate with the Marines "invading" Seattle, in a simulated amphibious assault meant to show off the Corps' unique abilities as America's elite expeditionary force.
Marine Week debuted in Chicago in 2009, and, after four very successful years in Chicago, Boston, St. Louis, and Cleveland, respectively, this year marks the fifth installment of the annual event. All Marine Week events and activities will be open to the public, free of charge. A full schedule of events will be released early this summer, so make sure to check back for that as Marine Week 2013 draws nearer.