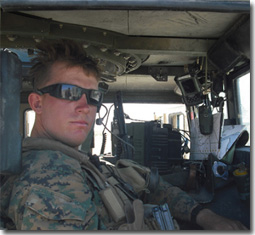 Just over two years ago, on September 8, 2009, Marine Sergeant Dakota Meyer traveled through a kill zone into the heaviest zone of fire in Kunar Province, Afghanistan, to aid wounded American Soldiers, Marines and Afghan National Army and Border Police forces.
Meyer entered this zone five times over the course of a six hour fire-fight, and ultimately saved the lives of 13 Marines and soldiers and 23 Afghan soldiers.
Sgt. Meyer was awarded the Medal of Honor for his heroic actions in Operation Enduring Freedom, and President Barack Obama presented the Medal of Honor to Meyer in a White House ceremony on September 15th. On September 16th, Sgt. Meyer will be inducted into the Hall of Heroes in the Pentagon Auditorium.
Meyer is the tenth Medal of Honor recipient since 9/11, and he is only the third living recipient of those 10.
Click here to learn more about Meyer's story on Marines.mil.
Click here to read the official press release about Meyer's award and induction ceremonies.