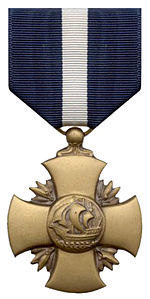 This article originated from the official U.S. Marine Corps website
1/18/2012 By Sgt. Jesse Stence, 1st Marine Division
MARINE BASE CAMP PENDLETON, Calif. — On Aug. 26, 2009, Lance Cpl. Donald J. Hogan sacrificed his life to save fellow Marines, and earned the Navy Cross, the nation's second highest award for valor.
Yesterday, the San Clemente native's family traveled here to receive the award from Secretary of the Navy Ray Mabus.
The same day, Marines with 1st Bn., 5th Marines began moving into the Lance Cpl. Donald J. Hogan Bachelor Enlisted Quarters, a newly-constructed $124 million barracks complex. A ribbon cutting for the barracks took place immediately after the award presentation.
Hogan's father and mother humbly commented on their son's achievement, noting his reluctance to accept personal recognition.
"He was given an opportunity that very few of us get: to prove our mettle," said his mother Carla. "But, I don't want the guys who he was with to feel that, in some way, he was a superior (to them)."
Actually, Hogan's Navy Cross citation certainly sets him apart from the majority of his peers. It describes how the infantryman with 1st Battalion, 5th Marine Regiment, leapt into the blast zone of an improvised explosive device to protect a squad mate – deliberately orienting himself toward the device and shouting warnings to the other Marines as it detonated.
"Mortally wounded by the explosion, Lance Corporal Hogan's extreme act of selflessness saved a Marine's life and allowed the rest of the squad to avoid the full brunt of the fragmentation from the improvised explosive device," the citation says.
The incident, which lasted only seconds, showed the mental discipline that Hogan developed over time, said Cpl. Lucas Geboo, who deployed with Hogan in 2009.
According to Hogan's father Jim, he wanted to be a Marine since reading his grandfather's copies of Leatherneck Magazine as a boy. The old magazines contained exciting stories about war and pictures of combat and weapons. Additionally, his grandfather, a Marine veteran of World War II, Korea and Vietnam, fed Hogan's imagination with personal anecdotes about his military career.
Hogan eventually enlisted in the Marine Corps after graduating from Tesoro High School in 2007. He completed basic training at Marine Corps Recruit Depot San Diego, Calif., before attending the School of Infantry here at Camp Pendleton and earning the military occupational specialty of rifleman. Hogan deployed to Afghanistan in the winter of 2009, where he made the ultimate sacrifice to save his fellow Marines.
Hogan's moment of valor, however, will be remembered for years to come.
"One of the things you worry about when you lose a child in battle is that we'll forget - he'll disappear - and this is a way of knowing that he won't ever disappear," said Carla. "People will remember him always."
You can find this article on the official U.S. Marine Corps website.