A sweet program of USO Okinawa
If your loved one in the military is stationed in Okinawa, you may have a wonderful opportunity to help them celebrate their birthday!
According to the United Services Organization (USO) website, USO Okinawa is excited to announce Operation Birthday Cake! With Operation Birthday Cake, USO Okinawa will order and deliver a personalized birthday cake to that someone special you're missing so much! Simply contact USO Okinawa two weeks in advance of the special day to request a birthday cake. On the individual's birthday, the cake will be delivered to your loved one for presentation.
This program has been a tremendous morale booster for members of the military over the years, and USO Okinawa is happy to continue the tradition! USO Okinawa will not charge for cake delivery or set up. Cake prices vary depending on size and style.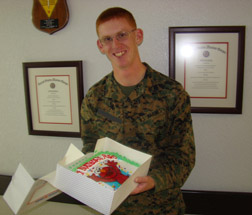 Marine Dad, Steve, and his wife know first-hand how great the Operation Birthday Cake program can be. Their son, a Lance Corporal, was having a birthday and they wanted him to celebrate with a bright, creative cake bearing his nickname "Red." After delivery of the cake, Steve received an email from the program coordinator, Thomas, telling him about how the presentation went, which made the experience even more special!
You can help your loved one celebrate their birthday too! Visit Marine Family Network for more information!