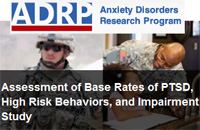 Depending on which source you use, estimates of post-traumatic stress disorder among Operation Iraqi Freedom and Operation Enduring Freedom veterans range from 6 percent to more than 18 percent.
To learn more about the unique needs and concerns of these active-duty service members and veterans, the University of South Florida RESTORE Lives Center and the Anxiety Disorders Research Program at the University at Albany, State University of New York (SUNY) have joined together in a research project. The Assessment of Base Rates of PTSD, High Risk Behaviors, and Impairment Study is designed to gather accurate information and identify these needs.
The researchers are looking for active-duty or veteran OIF/OEF members to complete a 60- to 90-minute anonymous online battery of questions "that asks about your work in the military, exposure to combat, emotions, and behavior."
"This kind of information is sorely needed for two reasons," the researchers write. "First, there is great uncertainty about the kinds of issues facing OIF/OEF service members and veterans. Second, getting more accurate information about deployment and post-deployment challenges and difficulties ought to help in understanding and meeting the needs and concerns of OIF/OEF active-duty service members and veterans."
To participate, you must have deployed at least once in OIF or OEF; be 18 to 59 years old; read and write English at an 8th-grade level or higher; and be willing to respond to a completely anonymous survey.
The first 900 participants can receive a check for $25 made out to "cash," and the participants thereafter can be entered in a raffle to win one of six $500 Amazon.com gift certificates.
The study is funded by a Congressional appropriation that is managed by the Department of Defense, but the DoD and the research team have no direct connections.
For more information or to sign up, go to www.myserviceimpact.com.