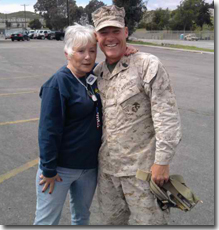 It was recently announced that our next Sergeant Major of the Marine Corps will be SgtMaj Micheal Barrett.
This is exciting news for us because Our Purple Heart Hero Support™ west coast manager Joyce Orrell knows SgtMaj Barrett well; he has attended our PHHS dinners at the naval hospital in Balboa in the past.
Joyce says,
"All of our volunteers have the utmost respect and admiration for him. He truly cares about the men that serve under him. He understands what the parents of Marines go through. He has made many trips out to Bethesda, Walter Reid, BAMC, Palo Alto, to visit with our wounded and sit by their side. He is a Marine that makes a difference, the Marines all look up to him."
We will miss having SgtMaj Barrett around at our dinners at Balboa for the wounded warriors, but we wish him the best of luck as he embarks on his new journey as Sergeant Major of the Marine Corps!