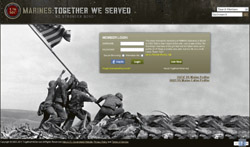 We're excited to tell you about a useful resource for veterans and active-duty Marines available through the Marine Corps Association and Foundation. TogetherWeServed.com is a website dedicated to helping all branches of service members reconnect and preserve memories of their service.
Together We Served is a safe, private site and you must become a member to explore and share. It has several elements members can take advantage of within their branch of service. Together We Served has an extensive database of over 320,000 registered Marines and has reconnected more Marines than any other military community website. Members can reconnect with others they served with from the unit listing available. The online directory also shows the Marines' name and rank, along with more information provided for fallen or deceased Marines, such as ribbon bars and deployment information.
Heroes can also record their Marine Corps service in order to preserve memories and create a keepsake for future generations. Marines have the ability to record their service "from the first day of boot camp to the last day of their career." Members' "Service Biography" pages include images of ribbons, badges and insignia worn on their uniforms, along with details about their service in "Shadow Box" presentation - perfect to share with loved ones.
Lastly, Together We Served offers members the ability to enjoy the camaraderie with other Marines! Members can upload unlimited photos and videos to share. There are currently several hundred thousand photos and videos from World War II to present day in the discussion boards. Add that to the stories posted, and there are more than 3 million memories shared already on TogetherWeServed.com, making it one of the largest collections of visual military memoirs in existence!
Registration to join Together We Served is fast and free. Members can choose to utilize the free services or pay for upgraded ones. The site is easy to look through, and secure for Marines to share. Check out TogetherWeServed.com today!