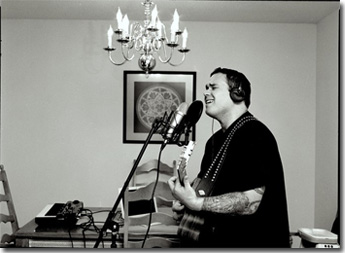 Last week we introduced you to Tony Mena, the combat veteran who is now an upcoming writer and music artist.
(Click here to read part one of Tony's story.)
Before spending six years as a Navy Corpsman aiding Marine Recon, Tony was a wrestler and not exactly a spokesperson for the arts or the military.
He didn't have any family ties to the military; he joined partially because he needed a challenge. Though he was a successful athlete in high school, it wasn't enough. Tony wanted to push himself to his limit physically, and the military was his outlet.
Always looking for a new challenge, Tony was too young and too bored to fear deployment and the war he would face overseas. He was not afraid to explore what he was capable of. One article published about him mentioned that he often ran or swam to the point of passing out.
During Tony's six-year stint in the military, he was able to convince himself that he was capable of nearly anything, including holding his friend Corporal Kyle Powell in his arms as he died November 4, 2006.
A stanza in Tony's award-winning poem "So I Was a Coffin" documents the moment:
"I jumped on Kyle's chest and wrapped my lace arms together around his torso and pressed my head to his ribcage but there was no heartbeat."
Though he was unable to help Kyle, Tony used his medical training to treat the wounds of Staff Sergeant TJ Edwards after his vehicle caught fire one morning.
In an online comment about Tony, TJ presumes that Tony has preserved even more lives through his writing: "Tony probably saved a life or two after a service member read his poetry and said to themselves 'Hey, I am not the only one who is thinking like this, maybe what I am going through is normal.'"
This is what Tony hopes to express through his music and literature. He has already inspired other service members to use writing as an outlet during and after difficult deployments. This year, a Marine in Afghanistan submitted his poetry to the same war poetry contest that Tony won in 2010.
Tony promotes alternative healing from PTSD because he knows that, much of the time, pride can get in the way of seeking professional help. As a substitute for therapy, many of Tony's friends blanketed their emotions with alcohol. Service members are provided resources such as classes, brochures and hotline numbers upon arrival home, but it's difficult for them to bring themselves to utilize those resources. "It's funny," he says on a personal note, "my pride has led me to achieve so much, but it's also my downfall."
A few "really bad nights" were Tony's turning point in deciding to move past the negative emotions and become a positive role model for service members. He discovered writing as a therapeutic method for keeping himself away from darker days, and he encourages others to explore that method.
Writing can serve as an outlet for service members to express their deepest thoughts and feelings about their experiences privately on paper, which may be easier than communicating them out loud to a family member or therapist. Writing can also help those who are having a difficult time adjusting to civilian life and miss the high-energy days overseas relive certain experiences.
"Not that [the darker days] just magically go away." Tony can readily list off specific dates representing moments that still haunt him.
Tony's journey as a Navy Corpsman began as a mission to test his physical and mental breaking points. His new mission is to convince others through example that they can recover from and move past their own breaking points. All service members still haunted by their darkest moments can find a ray of hope in Tony's influence and positivity.
Click here to view Tony's music videos.
Learn more about Tony at www.GerardoMena.com.