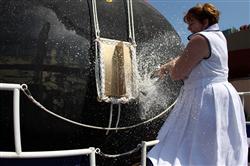 The Navy's newest destroyer honors Corporal Jason Dunham, the first Marine awarded the Medal of Honor for Operation Iraqi Freedom.
We spoke to Michael Phillips, author of The Gift of Valor, about the ship's christening. The Gift of Valor highlights Cpl Dunham's stunning story and the USS Jason Dunham's crew received 400 donated copies. Michael Phillips, Broadway Books, and the Dunham Family donated the books so the crew could learn the legacy behind the ship's name.
Retired general and former commandant of the Marine Corps Michael Hagee served as guest speaker at the ship's christening and said:
"I can tell the crew of the USS Jason Dunham, that you cannot have a better namesake, nor a better sponsor. This ship, USS Jason Dunham, will always remind individuals that freedom is in fact not free. It is paid for by those great young men and women who wear the cloth of our nation."
Deborah Dunham served as the sponsor of the ship named for her late son. In accordance with Navy tradition, she broke a bottle of champagne across the ship's bow and christened the ship.
She said her son would be very proud of the honor to have a ship named after him.
Click here to read the full article on Marines.mil...
You can learn the legacy behind the USS Jason Dunham too!
---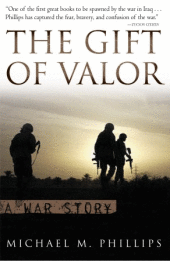 Dunham was mortally wounded in a selfless act of courage that saved the lives of his fellow Marines. Read his story in The Gift of Valor, a book that powerfully illustrates the cold brutality of war and the fragile humanity of those who fight it. Dunham leaves an indelible mark upon all who know his story.
Get your signed copy of The Gift of Valor today! Click here...
Act fast! These books are signed by author Michael Phillips and we only have 48 copies. This limited offer won't last long!