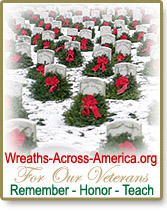 "
Remember
the fallen;
Honor
those who serve;
Teach
our children the value of freedom"
Wreaths Across America is a beautiful project to honor our veterans this and every holiday season.
The story began over 15 years ago when Worcester Wreath Company started a tradition of placing wreaths on the headstones of our Nation's fallen heroes at Arlington National Cemetery.
Over that period of time, Worcester Wreath has donated 100,000 wreaths which were placed by volunteers in a wreath-laying ceremony each December.
Freedom is never more than one generation away from extinction. We didn't pass it to our children in the bloodstream. It must be fought for, protected, and handed on for them to do the same, or one day we will spend our sunset years telling our children and our children's children what it was once like in the United States where men were free.
- Ronald Reagan, 40th United States President
Wreath-laying ceremonies are now held across the world and this year's ceremony will be held at all locations on Saturday, December 12th, 2009 at 12:00 noon EST.
For more information, to sponsor a 2009 wreath, and to find a ceremony location near you –