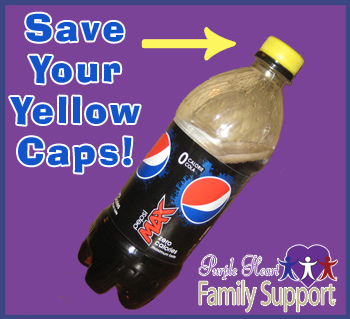 At the beginning of June, Marine Parents will apply to participate in the Pepsi Refresh Project contest to win $25,000 for Purple Heart Hero Support™ (PHHS) and wounded warriors. In case you are new to Marine Parents, our outreach program Purple Heart Hero Support™ provides emotional support for and serves meals to wounded Marines and families each month.
If we win the $25,000 grant, the funds will go towards helping our wounded adjust to life-altering injuries, whether by adding a wheelchair ramp to their home or purchasing them a much-needed refrigerator.
How can you help us win the grant? Vote for PHHS starting in July; we'll give you details as the date approaches. Supporters can only vote for us once a day, but finding "Power Votes" under yellow Pepsi caps allows you to cast more than one vote per day - sometimes up to 100.
These yellow caps can be found on Pepsi, Diet Pepsi and Pepsi Max products. Please save these caps until you begin voting in July to help us gain the most votes possble. The wounded warriors need our support!
Stay tuned for more information on helping us win $25,000 for wounded warriors!
To learn more about PHHS and the support it provides Marines and families, visit www.purpleheartheroes.com.