A common characteristic shared by a large majority of Marines, regardless of age or rank or MOS, is a desire to help others and make the world a better place. In many instances, this desire to help others no matter what cost, even at the risk of their own life, is what prompts a person to join the Marines in the first place.
In this spirit of giving back to others, we invite you to support us this year as we join in the world's largest and most successful annual workplace charity campaign, the Combined Federal Campaign (CFC), and help us give back to the Marines who sacrifice so much on our behalf.
The CFC is comprised of almost 200 charity campaigns throughout the country and overseas. All Federal civilian, postal, and military employees have an opportunity to choose from the CFC charities and pledge donations to the cause/s that matter most to them. In 2012 Federal employees contributed over $250 million dollars to CFC charities. While not all of you are Federal employees, each and every one of you can help this campaign succeed!
If you ARE a Federal employee, please look for us in the CFC Charity List this year and consider pledging your generous contribution to our organization. You're already here so we know this cause is important to you!
If you are NOT a Federal employee, as many, if not most, of you aren't, you can still help us spread the word. Tell any Federal employees you may know (friends, family members, your mailman, in addition to your Marine, of course!), "look for Marine Parents in the CFC Charity List! #57100." You can help us spread awareness of, and help raise money for, this wonderful cause.
When it's time to choose your CFC Charity, choose CFC # 57100 to support the troops and their families through the outreach programs and services of MarineParents.com. Only 5.7% of our annual expenses go toward administrative and fundraising expenses, so for every dollar you donate, 94.3 cents of it goes directly to Marines and their families!
The campaign season begins in early September and ends in mid-December.
As with all of our fundraising campaigns, the success of this depends on you, the Marine Parents family. None of what we do is possible without your extremely thoughtful and generous support. You've stepped up to the plate big time in past fundraising campaigns, now it's time to see if we can hit another home run this time around!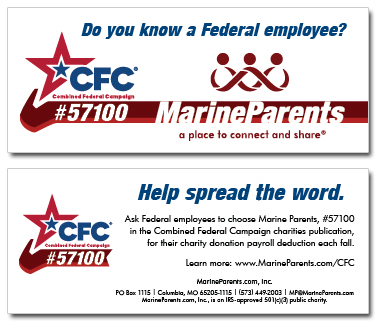 Order our Combined Federal Campaign Outreach Card to help you spread the word! It's fast, easy, and FREE! Click here to order...
Update:
CFC Adds Online Option for Donors at 'MyPay'
By Karen Parrish
American Forces Press Service
WASHINGTON, Sept. 6, 2013 - The annual Combined Federal Campaign adds a new feature for donors this year: an online pledge option available through the Defense Finance and Accounting Service's MyPay website, which most service members and civilians already use to view their leave and earnings statements.
Anthony DeCristofaro is assistant director of the DoD Voluntary Campaign Management Office, which is within the Washington Headquarters Services' human resources directorate. He told American Forces Press Service during a telephone interview that the online pledge option offers several advantages over paper pledge forms:
-- It's available all the time, from any computer;
-- It's more confidential and secure, as no paper forms pass from hand to hand; and
-- It's less prone to error.
He explained that donors directly enter their input online only once, while the information on paper pledge forms is typed and retyped into the system -- offering more chances for mistakes to creep in and also consuming thousands of total work hours in processing.
He said ease of use is potentially much greater, since donors using the online pledge option can search local, national or international charities. "Here in Washington, we have 4,500 charities," he noted. "But nationwide, there are about 20,000 different charities in this campaign."
DeCristofaro added that donors also are encouraged to use local CFC websites and other resources to research charities before giving DFAS their final instructions.
"I made my gift on Tuesday, ... [and] I was easily matched to my local campaign," he said. DeCristofaro said the process took him 10 minutes, and the next morning he had an email confirming his donation and start date.
The system has been in active development for two years, he said. The Defense Finance and Accounting Service led the effort, with support from the Office of Management and Budget, which has a similar system in its executive agencies.
In its first year, the service is open to employees in 90 of the 160 local CFC areas. Officials said more areas may be added in the future, and ask donors to use paper pledge forms in areas where the MyPay option is not available this year.
DeCristofaro said use of the system, like participation in CFC, is strictly voluntary. Many employees have asked for and will likely prefer electronic options, he said, although anyone who wants to make a one-time gift or use a paper CFC pledge form still can do so.
The new option is "an example of a collaborative effort that went into increasing our efficiency," he added. DFAS hired computer programmers and worked with payroll offices to build and test the system, he said.
"You really had to have a lot of collaboration to get to this end product," he said. "So many legacy systems come together here."
The new option will be available to eligible donors outside of the Defense Department, he noted, as the departments of Health and Human Services, Veterans Affairs and Energy, along with the Environmental Protection Agency, also are DFAS clients.
"It is easy, it eliminates paper, and inside the government, it's really going to save time," he said.