This month, Marine Parents is celebrating its sixth anniversary of supporting Marine families and Marines. The organization started out as a web site to provide information to parents of Marines deploying to Iraq in January of 2003 and has since grown to a national organization with a far reach to Marine and recruit families, recruits, Marines and Marine Corps offices.
It was never the intention of Founder Tracy Della Vecchia to create an entire organization when she put the first few pages online with answers to questions about deployment. But six years later, the incorporated nonprofit organization has a 9-member board of directors, 8 staff, 64 volunteers, and over 20 web sites servicing 90,000 Marine families and Marines from all over the United States.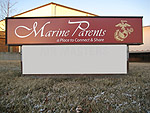 Sign outside the Corporate Headquarters in Columbia, Missouri
Tracy Della Vecchia, founder and executive director, runs the day-to-day operations out of the corporate office in Columbia, Missouri. The nine-person board of directors, made up of Marine parents around the United States, meets monthly and corresponds daily. The advisory board consists of active duty military personnel whom are consulted on an as-needed basis. The office employs 3 full-time staff and four part-time staff in addition to the executive director. The organization has 64 Marine parent and family volunteers, representing 34 states, working to provide services and information to Marines and the families of Marines and operates 26 web sites to balance the web site traffic among servers.
In addition to a moderated, OpSEC-compliant message board community and informational web sites, five outreach projects support the families and Marines. Operation Prayers and Letters™ offers support to injured Marines. Purple Heart Hero Support™ offers support to the family members of injured Marines. Gold Star Family Support offers support to family members whose Marine has been killed in action. The Care Package Project™ sends thousands of care packages to combat-deployed Marines five times each year. Team Marine Parents™ is a fund-raising initiative to support Marines, their families, and the outreach projects of the organization. As of January, 2009, the organization has sent more than 18,000 packages to Marines overseas totaling more than $140,000 in postage, mailed 18,758 cards to injured Marines, served 1,629 meals to families at Bethesda Hospital, and raised over $22,600 through Team Marine Parents™. There are over 190 Marine families in the private Gold Star forums.
Additional services include information on Bootcamp, Combat Recovery, and Veteran's Benefits. All services are offered free to families and Marines. Funding comes from private and corporate donations, affiliate sales programs, and online sales of products and books related to Marine Corps support. Volunteers approve over 35,000 posts on the message boards each month and answer over 500 emails monthly.
Since 2006, the organization has held five annual conferences for families to gather to connect and share with one another, bringing in well-know speakers, best-selling authors, and Marines to provide learning and networking opportunities to Marine Corps families. The information side of the web site, MarineParents.com, offers a vast knowledge base of information on deployment, from calling cards and care packages to tips for helping family members of all ages cope with the stresses of deployment. "Knowledge is Power" and MarineParents.com believes that empowering family members to locate and read accurate information about deployments, helps to answer their questions, which in turn helps them maintain some stability with the roller coaster of "deployment emotions".
The organization is an IRS approved 501(c)(3) public charity. Neither the United States Marine Corps nor any other component of the Department of Defense has approved, endorsed, or authorized services of the organization. The organization is a member of the Department of Defense initiative "America Supports You".