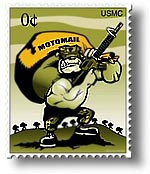 Electronically Printed Mail Service for Marines Overseas!
MotoMail is endorsed by the USMC! Communicate with your Marine via electronically delivered letters in as little as 24 hours! This is a free service; it's tried and true and really helps to communicate quickly with your Marine stationed in Iraq or Afghanistan.
Setup an account at MotoMail.us. Enter your Marines information and mailing address from the drop-down list. Type our letter using your computer keyboard. No software required! Click send, and your letter is already in Iraq and ready to print and be sent on the next postal truck to your Marine's camp.
The letter is printed in a sealed format, much like you receive a PIN number through US Mail for your credit or debit card. No one else reads the content of the letter; it's between you and your Marine!
MotoMail adds PhotoMail!
June 12, 2007: Just when you thought electronically printed communications couldn't get any better, the Motomail team brings on an exciting enhancement to the MotoMail system--PHOTOS. Yes, thatís right you can now send your family and friends photos along with your letter. Itís simple, quick and allows you to add an additional personal touch to your MotoMail. They call the service PhotoMail and we hope that you, your family and your friends will enjoy it and use it often. After you sign in to MotoMail as usual, go to the PhotoMail tab to learn more and enable your account to start using this new service.
NEW Two-Way Service!
Your deployed Marine can now send letters back to you in the U.S.! All they need to do is set up a military account. The first five letters are free, and then they charge 50 cents per letter. Click here to visit MotoMail's 2-Way Service page.
MotoMail is currently available only to Marines and Navy Corpsmen deployed to Afghanistan. The service will be expanded as needs are defined and resources are available.
You do need to sign up for an account to use MotoMail. The service is fast, free, private AND secure! It's also a great way to verify your Marine's mailing address.
For more information, please see: www.motomail.us