United States Marine Corps
Est. November 10, 1775
The United States Marine Corps celebrates its birthday on November 10, 1775, the day the Second Continental Congress passed the Continental Marine Act of 1775 ordering, "That two battalions of Marines be raised...". The Marine Corps' birthday is a day of pride and respect, and its celebration is one of the most revered traditions in the Corps. Each year on November 10th, Marines around the world celebrate what they see as their "second" birthday, the day the United States Marine Corps was born.
To watch the Commandant's 2014 Birthday Message, please click on the image below.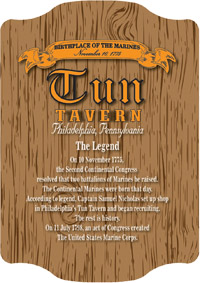 Fun Facts About the Marine Corps Birthday:
The Marine Corps was born at a bar called Tun Tavern in Philadelphia.
The same day the Marine Corps was born, they set up the first recruiting station at Tun Tavern. (Needless to say, both the Marine Corps and the tavern thrived in this new relationship.)
In 1923, the Marine Barracks at Ft. Mifflin staged the first ever formal dance for the birthday ball. We imagine it went something like this.
The first piece of birthday cake that is cut goes to the oldest Marine present, and the second piece that is cut goes to the youngest Marine present, symbolizing the passing of experience and knowledge down through the generations.
Click here to learn more about the Marine Corps birthday
and Marine Corps Birthday Ball
Tell Marines Happy Birthday!
Because the Marine Corps' birthday is such an important event, celebrated in every clime and place, we would like your help to wish our deployed Marines a happy birthday! Learn how to get involved in our Marine Corps Birthday Card Campaign.

Need some Marine Corps birthday gear?
Check out the EGA Shop to make sure you're ready for this year's 239th Marine Corps birthday. Proceeds from the EGA Shop help fund the many outreach programs and services of MarineParents.com.
Get your Marine Corps birthday gear where your purchase matters.
September, 2014
Written by: Nate Hendren
USMC Veteran, Cpl, '09-'12
Social Media Representative
MarineParents.com, Inc.