Thanks to you, the Marine Parents family, "Operation Oklahoma Marines" was an overwhelming success. Both of the Marine families that "Operation Olahoma Marines" helped were exceedingly grateful and wanted to let you all know how much it meant to them. Enjoy!
Dear Tracy, Danielle, Collin, & Marine Parents Family,
We cannot even begin to express our gratitude for all of your hard work, compassion, and time that each of you devoted to helping our family. It is truly wonderful to know that the Marine Parents are so willing to help other Marines and their families in a time of need.
We had such a nice visit with Tracy, Danielle, and Collin when they came to Oklahoma City. It was great to meet all three and to share stories and get to know them. We will forever be grateful for your efforts in lessening the stresses on our family during such a very trying time in our lives.
MarineParents.com Inc. Founder and Executive Director Tracy Della Vecchia stands with Gy.Sgt. David and his family in front of their new Chevy Silverado donated by Marine Dad Doug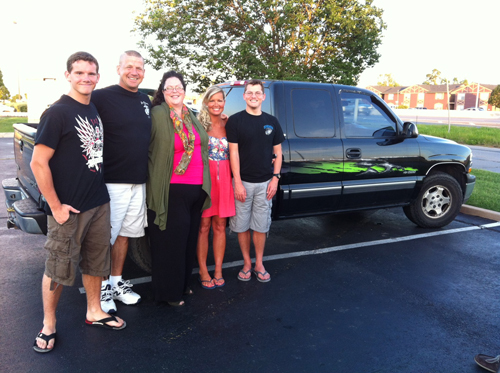 We would like to say a special thank you to Doug and Donna Smith for donating your Chevy truck. Our teenage boys thought that was the neatest thing hands down. Bennett Buick GMC was so kind to have donated the parts and time and Glass Masters Auto Glass was equally as kind in putting in a new windshield, to all of of you, thank you so much. It really is an incredible feeling to know that so many people were willing to help our family and we thank all of you from the bottom of our hearts for your generosity. We feel truly blessed to be a part of such a great Marine Corps Family.
MarineParents.com, Inc. Founder and Executive Director Tracy Della Vecchia presents Gy.Sgt. David and his family with a check for $7,000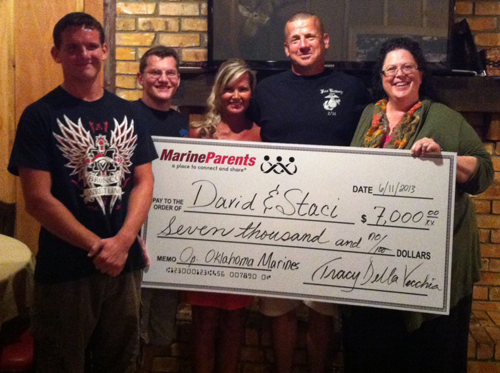 God Bless and Semper Fi,
Gunnery Sergeant David & Family