1st Battaliion, 24th Marines (1/24)
"Terror from the North"
4th Marine Division ~ 24th Marine Regiment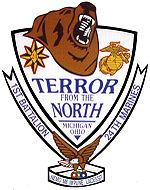 Unit Information
The 1/24 is a reserve infantry battalion whose mission is to provide trained combat personnel to augment and reinforce the active component in time of war, national emergency, and at other times as national security requires.
The 1/24 is comprised of: H&S Co (Mt. Clemens, MI), Alpha Co (Grand Rapids, MI), Bravo Co (Saginaw, MI), Charlie Co (Lansing, MI) and Weapons Co (Perrysburg, OH).
BASE LOCATION:
Selfridge ANGB, Mt. Clemens, MI
OFFICIAL UNIT WEB SITE:
Click Here
Family Readiness Information
The primary source of unit/battalion information for spouses AND parents is the FRO (Family Readiness Officer) and Unit Hotline. The FRO will work with FR Assistants, FR Advisors and FR Volunteers along with the senior command members to make up the new Family Readiness Command Team.
FAMILY READINESS PAGE:
Click Here
FAMILY READINESS OFFICER (FRO):
No name listed
FRO PHONE NUMBER:
(504) 697-8152
Unit Hotline Number:

Hotline Extension:

1st Battaliion, 24th Marines (1/24) Mailing Addresses

1st Battalion, 24th Marine Regiment
27601 C Street 
Selfridge ANGB, MI 48045 
 

											
1st Battaliion, 24th Marines (1/24) Postal Facility
If you need assistance finding a mailing address for a Marine, please contact the postal facility of the last known state-side duty station. The postal facility will not give out mailing addresses to non-family members. Family members need to be prepared to provide identifying information for their Marine. The following is contact information for the postal facility that handles 1/24 mail:
Postal Facility Location

Postal Phone Number(s)

Information on 1/24 last updated 2/4/2014 6:17:58 AM GMT.
Attention Unit FRO and/or Senior Command Elements of the 1/24:
To request changes to the 1/24 Unit Information Page™, please contact the Marine Parents office at 573-449-2003 or via email mp@marineparents.com. Office staff will make the changes immediately.