2nd Battalion, 9th Marines (2/9)
"Hell in a Helmet"
2nd Marine Division ~ 6th Marine Regiment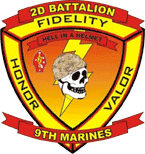 Unit Information
The 2/9 is a battalion-level infantry unit composed of infantry Marines and support personnel. Infantry battalions are the basic tactical units that the regiment uses to accomplish its mission of locating, closing with and destroying the enemy by fire and close combat.
The 2/9 is comprised of H&S Co, Echo Co, Fox Co, Golf Co and Weapons Co.
BASE LOCATION:
MCB Camp LeJeune, N.C.
OFFICIAL UNIT WEB SITE:
Click Here
Family Readiness Information
The primary source of unit/battalion information for spouses AND parents is the FRO (Family Readiness Officer) and Unit Hotline. The FRO will work with FR Assistants, FR Advisors and FR Volunteers along with the senior command members to make up the new Family Readiness Command Team.
FAMILY READINESS PAGE:
Click Here
FAMILY READINESS OFFICER (FRO):
No name listed; Email: 2/9 FRO@usmc.mil
FRO PHONE NUMBER:
Office: 910-450-9547
Unit Hotline Number:

Hotline Extension:

2nd Battalion, 9th Marines (2/9) Mailing Addresses

2d Battalion, 9th Marine Regiment
PSC Box 20165
Camp Lejeune, NC 28542

											
2nd Battalion, 9th Marines (2/9) Postal Facility
If you need assistance finding a mailing address for a Marine, please contact the postal facility of the last known state-side duty station. The postal facility will not give out mailing addresses to non-family members. Family members need to be prepared to provide identifying information for their Marine. The following is contact information for the postal facility that handles 2/9 mail:
Postal Facility Location
Main Post Office Camp Lejeune, NC
Postal Phone Number(s)
(910) 451-2789/2204/5134
Information on 2/9 last updated 6/5/2013 10:18:03 PM GMT.
Attention Unit FRO and/or Senior Command Elements of the 2/9:
To request changes to the 2/9 Unit Information Page™, please contact the Marine Parents office at 573-449-2003 or via email mp@marineparents.com. Office staff will make the changes immediately.