Marine Corps Air Ground Combat Center Twentynine Palms (MCAGCC 29 Palms)

1st Marine Division ~ No Regiment
Bases and Stations: Marine Air Ground Task Force Training Command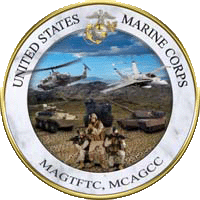 Unit Information
The mission of MCAGCC 29 Palms is to conduct relevant live-fire combined arms training, urban operations, and Joint/Coalition level integration training that promotes operational forces readiness as well as to provide the facilities, services, and support responsive to the needs of resident organizations, Marines, Sailors, and their families today and tomorrow.
BASE LOCATION:
Twentynine Palms, CA
OFFICIAL UNIT WEB SITE:
Click Here
Family Readiness Information
The primary source of unit/battalion information for spouses AND parents is the FRO (Family Readiness Officer) and Unit Hotline. The FRO will work with FR Assistants, FR Advisors and FR Volunteers along with the senior command members to make up the new Family Readiness Command Team.
FAMILY READINESS PAGE:
Click Here
FAMILY READINESS OFFICER (FRO):

FRO PHONE NUMBER:

Unit Hotline Number:

Hotline Extension:

Marine Corps Air Ground Combat Center Twentynine Palms (MCAGCC 29 Palms) Mailing Addresses
MarineParents.com Facebook Groups
PDS - MEU - MEF (Permanent Duty Station)
Facebook.com/Groups/MPpds
Marine Parents
Facebook.com/Groups/MarineParentsCom
OPSEC and Deployment
Facebook.com/Groups/mpOPSEC
MarineParents.com Sites for MCAGCC 29 Palms
OpSEC Compliant Private Social Network MFN
(Marine Family Network)
http://marinefamilynetwork.com/group/29palms
To assure compliance with OPSEC (Operational Security), the MarineParents.com message boards and chat rooms are moderated by our trained volunteers. Please remember message board communities outside MarineParents.com may include posts and/or links that may or may not be moderated according to OPSEC guidelines. To help keep our Marines safe, we encourage your continued use of OPSEC guidelines when posting in any online community, forum, message board or chat room including those that appear to be sponsored by military organizations. MarineParents.com does not exercise any editorial control over the information contained in external web sites.
Additional Services from MarineParents.com
MarineParents.com, Inc. Web Site:
www.MarineParents.com
Marine Corps News Room:
www.Marine-Corps-News.com
EGA Shop for Unit Shirts:
EGA Shop Unit Store
Marine Family Network:
www.MarineFamilyNetwork.com
Other Helpful Web Sites
(these may or may not be official USMC web sites)
Marine Corps Air Ground Combat Center Twentynine Palms (MCAGCC 29 Palms) Postal Facility
If you need assistance finding a mailing address for a Marine, please contact the postal facility of the last known state-side duty station. The postal facility will not give out mailing addresses to non-family members. Family members need to be prepared to provide identifying information for their Marine. The following is contact information for the postal facility that handles MCAGCC 29 Palms mail:
Postal Facility Location
MCAGCC Twentynine palms, CA
Postal Phone Number(s)

Information on MCAGCC 29 Palms last updated 5/7/2013 10:18:42 PM GMT.
Attention Unit FRO and/or Senior Command Elements of the MCAGCC 29 Palms:
To request changes to the MCAGCC 29 Palms Unit Information Page™, please contact the Marine Parents office at 573-449-2003 or via email mp@marineparents.com. Office staff will make the changes immediately.