Marine Parents Volunteers of the Year 2013
---
This year, we selected three volunteers for our "Volunteer of the Year" award. With over 200 volunteers working with Marine Parents around the country, and each exemplary in their own way, it's tough to choose each year.
We selected a volunteer from each of the following three categories:
Online Support Services Volunteer
Maria L. from Brooklyn, New York
Outreach Programs Volunteer
Paul R. from Rocky Ridge, Maryland
Local Volunteer
Patty Hendren from Moberly, Missouri
We extend a huge Ooh Rah and congratulations to each of you for taking support of our Marines and families at home to another level. Thank you Maria, Paul, and Patty!
Below you'll find a few paragraphs on each of the Volunteers of the Year.

Online Support Services Volunteer of the Year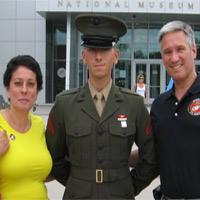 Maria L. is a volunteer from Brooklyn, New York. She found Marine Parents almost six years ago when her son shipped to boot camp at Parris Island. She became a volunteer message board moderator for our Recruit families shortly after, winning the hearts of everyone. Her posts are calming and so helpful for our members who have a new Recruit in boot camp. Besides answering questions, guiding her groups and offering support, she gives a piece of herself with her personal stories from the
days her son was in boot camp and through his two Afghanistan deployments.
She is currently the Manager of the Recruit message board, being in charge of all the Boot groups and our Boot message board moderators, including their training. Her soft and loving touch is evidenced by our great team of Recruit moderators. We see a few hundred new families each week who want to learn about their Recruit's training and the road to becoming a Marine parent. Maria and her team facilitate that daily with grace and ease.
This year, Maria's total number of volunteer hours reached over 4,000 and she earned the President's Call to Service Award, the lifetime achievement level of the Presidential Volunteer Service Awards. Her dedication to our families, volunteers, Recruits and Marines is always evident. Maria, our sincerest "Thank You" for your time, caring, and leadership. Being recipient of 2013's Marine Parents Online Support Services Volunteer of the Year Award is richly deserved.
Outreach Programs Volunteer of the Year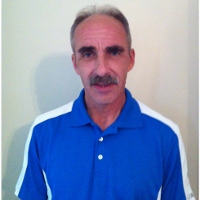 Paul R., from Rocky Ridge, MD, is a Purple Heart Hero Support volunteer at the twice-a-month Sunday dinners at Walter Reed National Military Medical Center in Bethesda, MD (WRNMMC)—making a 90-minute drive each way—and is known for his delicious homemade chocolate chip cookies. He served in the Marines from 1977–1982 and is the proud father of three adult children, including a Marine who recently returned from an Afghanistan deployment. Paul brings a special degree of empathy and understanding to his activities at WRNMMC.
Paul has been the key volunteer involved with distribution of adapted shorts and the production of adapted camouflage blouses for the combat-wounded Heroes on the surgical floor. This clothing allows the Heroes the independence to dress themselves. When the Marine Liaison Office at WRNMMC identified a need for adapted camouflage blouses to allow Purple Heart recipients the dignity of being dressed in uniform for their Purple Heart award ceremony, Paul took charge of the project. He located a seamstress (Pamela H. of Thurmont, MD), who volunteered to modify the blouses and green T-shirts with Velcro so that they could easily be put on a patient who is confined to bed. He brought a template to the MLO for approval, made special trips during his work week to WRNMMC to collect necessary materials, and then, on Feb. 13, 2013, presented the six completed blouses (desert and woodland pattern) to Staff Sergeants and other Marines at the MLO. His description of the event says it best:
"We demonstrated how easily they can be put on along with the T-shirt dickies, and everyone agreed that they will be put to good use and greatly appreciated by the Marines who wear them. SSgt K said that it was perfect timing and that there is a Purple Heart award ceremony next week and they will get their first usage then. He also said that previously, they have had to cut these blouses up to allow for tubes, casts, etc. and also uncomfortably wrestle the Marines into it. I'm very glad that we were able to give our wounded Marines the dignity of being in a regulation uniform, along with the ease and comfort of putting them on."
Local Volunteer of the Year
Patricia "Patty" Hendren is a volunteer from Moberly, Missouri. Patty founded and runs the Randolph County "Spice of Life" program in Moberly, a program designed to keep senior citizens active and engaged by participating in various activities.
Patty has two Marine sons and originally discovered Marine Parents while looking for "a Place to Connect & Share®." Being familiar with the organization, Patty knew that the mission of Marine Parents is two-fold--the organization seeks not only to give back to the troops, but also to provide the community with an opportunity to give back as well. As a result, after starting Spice of Life, Patty wanted to get the program involved in Marine Parents' outreach programs.
In early 2011, Spice of Life became involved with the Care Package Project and its members would (and still do) help prepare the items that go into the packages. In 2012, some of the members of Spice of Life began sewing adapted shorts for wounded heroes in support of Purple Heart Hero Support. So far, they've sent more than 60 pairs to the Walter Reed Medical Center in Bethesda, Maryland. For her continued and ongoing work, we would like to sincerely thank Patty Hendren, recipient of 2013's Marine Parents Local Volunteer of the Year Award.