After almost eight years of dedicated service to MarineParents.com's West Coast Purple Heart Hero Support program, we are sorry to announce the retirements of PHHS-W Manager Joyce Orrell and her husband Curtis. They've been a fixture at our weekly dinners for wounded, ill, and injured service members for the better part of a decade, and their presence will be missed by all. We wish both Joyce and Curtis the best of luck in their future endeavors and can't thank them enough for their dedication to the Marines whose lives they've forever touched.
In his memoir, Days of Grace, tennis legend Arthur Ashe wrote, "From what we get, we can make a living. What we give, however, makes a life." When I read this quote, I immediately thought of Joyce and Curt and that if these words are true, then they have made two of the fullest lives of anyone I've ever met.
Joyce and Curtis Orrell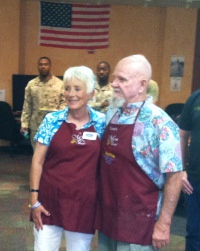 As I thought about it more though, I began to wonder what, exactly, it is that they've been giving that has allowed them to make such full lives. Obviously, there is no one answer to this question, and I'm sure that everyone here who knows Joyce and Curt could come up with a number of correct responses, but, after much deliberation, I have narrowed it down to what I believe are the three most important factors--time and energy, love, and hope.
The first factor, and also the most quantifiable, is time and energy. In the past 7 ½ years, Joyce and Curt have logged more than 7,500 combined hours volunteering for Purple Heart Hero Support and this year Joyce passed the 4,000 total hours volunteered mark, earning herself President's Call to Service Award, a lifetime achievement award for those who are truly devoted to the cause of volunteering. Joyce and Curt have served more than a thousand meals to wounded, ill, and injured troops. Their dedication to PHHS and to our wounded, ill, and injured troops is truly inspiring.
The second factor that Joyce and Curt give is love, and they exemplify the "Semper Family" concept to the highest degree. As soon as their son earned the title of Marine and began to call his fellow Marines "brothers", Curt and "Mama Joyce", as she's since come to be known, began to view each and every Marine as an additional son. Whether serving meals, giving out hugs, or providing a sympathetic ear, an open heart, and a comforting smile, it has been clear since day one that for Joyce and Curt, being a part of PHHS has been a labor of love.
The third factor is hope. Many of the wounded, ill, and injured heroes that Joyce and Curt interact with have had their lives violently and irreversibly changed, and the recovery process can be the most challenging task they've ever undertaken. Some of these heroes are fortunate enough to have a family member with them at Balboa during the recovery process. Many are not. For those who don't have a family member present during the recovery process, it's comforting to know that there are people nearby to provide support and encouragement, especially on the more frustrating days.
So there you have it. Time and energy, love, and hope. Joyce and Curt have given more of all of these than seems possible, and their contributions will never be forgotten. To paraphrase the late, great, Dr. Martin Luther King Jr., "Everybody can be great. Because anybody can serve…You only need a heart full of grace. A soul generated by love." I, for one, can think of no one that this sentiment applies to more than Joyce and Curt. With hearts full of grace and souls generated by love, they have shown us all what it means to be truly great.