I want to take a moment to recognize a volunteer that has been with Marine Parents for many years. One volunteer. 12,000 hours. 10 years of service.
In the last ten years, one thing I've learned about volunteers, is that they have a passion and commitment that is over the top. When a family member makes the commitment to volunteer at Marine Parents, we already know we've got one of America's finest citizens on board with us.
Every volunteer is unique, and each has a huge heart. Sandy Robinson is one of those volunteers. Sandy is the mother of a Marine, a grandmother several times, and retired. Well, sort of.
Sandy has been working as a volunteer at Marine Parents since 2004 and logged over 10,000 volunteer hours since mid-2006; that's three lifetime awards, or the equivalent of six years of full time (40 hours per week, 50 weeks per year) employment. This is truly staggering. We started tracking hours in an official capacity in 2006. Since that time, Sandy averages 25 hours a week. If we took her average, we would need to add over 2,000 additional volunteer hours to reach her "real" total of an estimated 12,000+ hours working for Marines and their families at home.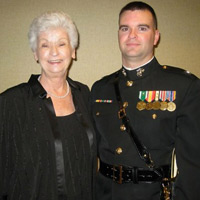 Sandy's support is unique in that she's supporting the Marines, the families at home, and our volunteers. She's on the Marine Parents Board of Directors as Director of Online Support Services which means she's working with families and volunteers on Marine Family Network (MFN). Her commitment to leading her team is solid; her work and volunteer ethic is impeccable; her knowledge base is extensive.
It gives me great pleasure to recognize Sandy as not only our longest standing volunteer, but the volunteer with the most volunteer hours ever achieved with the organization. Thank you Sandy, for your rock-solid commitment to the Marines and their families. It is our good fortune to have you as part of our amazing team! Ooh Rah!
Tracy Della Vecchia, Founder