San Diego Fires
Added October 23, 2007

We have published a page of official and verified information on the San Diego Fires and how that may affect our recruits and Marines at the Marine Corps Recruit Depot (MCRD San Diego) and Camp Pendleton. It's on the RecruitParents.com website. The link follows:

www.RecruitParents.com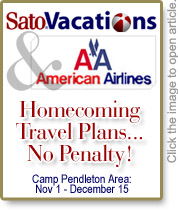 Homecoming Travel Nov 1 - Dec 15: Special Offer from SATO and AA
Added October 14, 2007
SATO and American Airlines have a new program up and running for upcoming homecoming events at Camp Pendleton. The part that helps our families the most is this: "The normal change fee is waived--due to a change in the service members arrival date for as many times as necessary through SatoVacations (if the customer calls AA directly there will be a $15 change fee)."
Other bases may take advantage of this program as well. However, they must provide Nancy Oliviero (contact information in document) with their base and airport information so those airports can be added to the contract. At this point, the following airports are included: San Diego (SAN), John Wayne (SNA) and Los Angeles (LAX).
To take advantage of this offer, call toll free 877-698-2554. Read restrictions and parameters in PDF file link below. Feel free to share this information with everyone immediately!
Click here to download a PDF file with full details...


Brand New Yard Signs for Marine Families!
Added October 12, 2007
We"ve just added YARD SIGNS to our inventory in the online stores. We"ve got signs to welcome home your Marine, to congratulate your new Marine after graduation, and to announce "The Proud Family of a U.S. Marine". The signs are made of durable vinyl, printed on both sides and come with the metal stakes required to proudly display in your yard! Special introductory price for a limited time. For orders over $50, use coupon code WACKYFENCES to receive $5 off. Coupon expires Oct 13. To order visit our online stores or click here:
www.Cafepress.com/MarineParentInc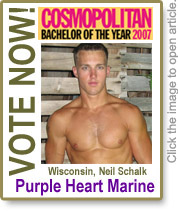 VOTE NOW for Purple Heart Marine as Cosmopolitan's Bachelor of the Year, 2007
Added October 9, 2007
Twenty-one year old former Marine Neil Schalk is much more than a "hot bachelor" and the subject of attention for many young women. He is a Purple Heart hero from Muscoda, Wisconsin. He and his family are very involved with Team Marine Parents and Purple Heart Hero Support™. Neil's sister Natalee, has nominated him as Cosmopolitan's Bachelor of the Year, 2007.
Hurry! Voting ends at midnight eastern time October 11. To read more and vote for Wisconsin's Neil Schalk as Cosmopolitan's Bachelor of the Year Click here...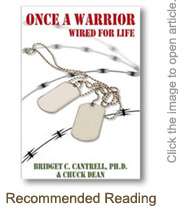 Once a Warrior: Wired for Life
Added September 25, 2007
A new book by Dr. Bridget Cantrell and Chuck Dean. Recommended reading for all families and military personnel who have or will experience deployment to a combat zone.
Click to order...
From the Founder, Tracy Della Vecchia
"The book was beyond my expectations. I finally "get it". I finally understand that our sons and daughters will all have a tough time returning to civilian life--they don"t have to have PTSD (Post Traumatic Stress Disorder) or COS (Combat Operational Stress) to have concerns about returning home and adjusting back to a civilian lifestyle. And I understand why now. That knowledge and understanding will help me help other families, and most importantly, help me to help my son."
Click to read more...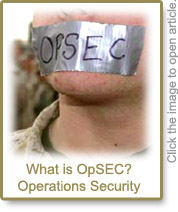 New Guidelines for Message Boards
Added September 24, 2007
OpSEC, Privacy and Personal Safety Guidelines for MarineParents.com Message Boards and Chat Rooms
We"ve updated the guidelines for posting on the message boards. Please review the newly revised guidelines in an easier-to-read format.
Click to read more...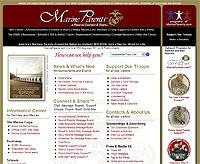 MarineParents.com Website Overhaul!
Added September 20, 2007
We're developing a new look and feel for the web site effective mid-September, 2007. We'll be building and moving sections slowly to bring you a web site that is more user friendly, easier to navigate, and less complex to find what you're looking for. MarineParents.com has grown exponentially over the last few years. We"ve never done an entire overhaul of the web site and it's past due!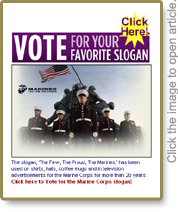 Vote for the Marine Corps Slogan!
Added September 13, 2007
"The Few, The Proud, The Marines," has been nominated as one of the 26 best slogans in the 2007 competition. Winning slogans will be etched on a plaque on Madison Avenue in New York City. Winners announced Sept. 26. Voting through September 24, 2007.
Click to vote or read more...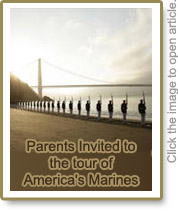 America's Marines: Parents Around the Natit. 26. Voting through September 24, 2007.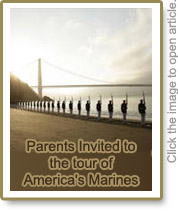 America's Marines: Parents Around the Nation are Invited!
Added September 13, 2007
The Marine Corps will be filming a new commercial in multiple locations across the country over the next two months. The title of the new campaign is "America's Marines," where the objective is to reconnect America with the Marine Corps by showcasing the Corps in communities around the country, and encouraging Americans to interact with Marines on a personal level.
Click to learn more...