Radio Interview with Dr. Bridget Cantrell
Added May 4, 2008

The radio interview with Dr. Bridget Cantrell and Debbie Chavez, talk show radio host, will air on Monday, May 5 at 1:00 p.m. Pacific Time. To listen online during that time, go to:

www.debbiechavez.com

. The interview will kept in archives for three months.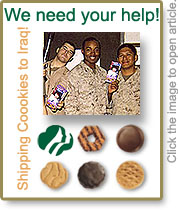 Help us Ship Girl Scout Cookies to the Marines!
Added March 2, 2008
This is our fourth year shipping Girl Scout Cookies® to the Marines in Iraq and Afghanistan, and this is the biggest shipment ever! We have 1,000 cases of Girl Scout Cookies® (that's 12,000 boxes!) arriving in our warehouse in March. We'll ship these cookies to Marines deployed to Iraq in addition to our regularly scheduled care packages. That means we need to raise 100% of the funds ($10,950) to ship the cookies. We need your help collecting donations.
Click here to learn more...
Click here to donate...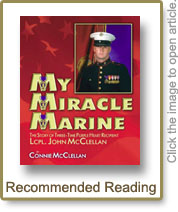 My Miracle Marine, by Connie McClellan
Added February 22, 2008
Connie McClellan is a Marine Parent whose son, John McClellan was injured in combat not once, not twice, but three times. John was dubbed "Lucky" by a Stars in Stripes correspondent after his second gunshot wound sustained in Afghanistan. Connie has written a book that tells the story of the journey her family has taken during this incredible time in their lives.
Click here to read more...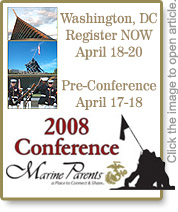 2008 Annual Marine Parents Conference
Added February 11, 2007
The 3rd Annual Marine Parents Conference will be held in the Washington, DC area, April 18-20, 2008 at the beautiful Doubletree Hotel, located across from the Pentagon in Arlington, Virginia. The pre-conference will be held April 17-18, 2008.
The Marine Corps is rich in history, and our Nation's Capital is an extraordinary place to celebrate that history. The Pre-Conference All-Day Tour on Friday will take you through years of the Marine Corps, from the amazing National Museum of the Marine Corps, to the famous 8th & I Marine Corps Barracks, Iwo Jima, and an exhibition of our own Marines making history today: the Silent Drill Platoon.
Colonel Matthew Bogdanos, the lead investigator into the looting of Baghdad's Iraq Museum in 2003, will open a new window of historical perspective for you during the richly illustrated keynote at Saturday's Benefit Dinner. Colonel Bogdanos is a spit-and-polish Marine, a competitive boxer, a classics scholar, and an assistant DA in Manhatton. It is truly an honor to host Colonol Bogdanos as our keynote speaker this year.
General Session topics and speakers on Saturday will include Veterans' Ombudsman Pat Rowe Kerr delivering the morning general session on Veteran's Benefits. Immediately following will be a panel led by Colonel Bryan P. McCoy for the combat deployment session. That afternoon, Dr. Bridget Cantrell will present a discussion panel on Traumatic Stress Injury and Warrior Transitioning.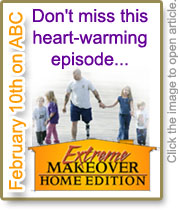 Purple Heart Marine & Extreme Home Makeover
Added January 25, 2008
The Gilyeat family from Kansas City, KS has received the surprising news that Ty and the gang will build them a new, renovated home in just seven days in a special two-hour episode of "Extreme Makeover: Home Edition," SUNDAY, FEBRUARY 10 (8:00-10:00 p.m., ET) on the ABC Television Network.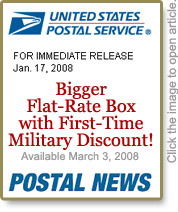 NEW! Bigger Flat Rate Box with First-Time Military Discount
Added January 20, 2008
WASHINGTON, DC — The U.S. Postal Service announced today that its Board of Governors approved two new initiatives to grow its shipping business and revenue. A new, larger Priority Mail Flat-Rate Box enables customers to ship 50 percent more than with the current box. It will be offered at a discount to overseas military addresses, a postal first for the armed forces. For full press release from the USPS, see:
USPS Web Site Press Release
Click for PDF Version